Church of Scientology Seattle Forum: Heroin Problem is "Enormous" Expert Says
Press Release
•
updated: May 4, 2017
Raising awareness of the heroin problem and a simple but effective way to reduce abuse.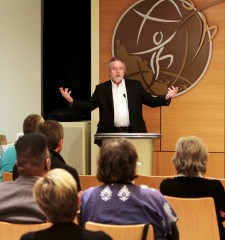 Seattle, Washington, May 4, 2017 (Newswire.com) - A recent forum at the Church of Scientology Seattle looked into the heroin crisis in Washington State. Organized by the Seattle chapter of the Foundation for a Drug-Free World, the program featured Dr. Steven Freng, Prevention and Treatment Manager at the Northwest High Intensity Drug Trafficking Area program (NW HIDTA).
Dr. Freng's presentation documented a dramatic spike in the drug's abuse locally. "Heroin is now very significant—enormous—and growing all the time. We see no end in sight for the ongoing epidemic involving opioids."
Research published by the Centers for Disease Control and Prevention (CDC) states: "Heroin use has increased across the United States among men and women, most age groups, and all income levels." It encourages "a comprehensive response that addresses the growing number of demographic groups using heroin," and the importance of "the development and implementation of prevention policies."
Drug education has been proven to be a viable and effective deterrent to drug abuse. According to the UN Office on Drugs and Crime, "Every dollar spent on prevention can save governments up to ten dollars in later costs."
The Foundation for a Drug-Free World is the world's largest nongovernmental drug education and prevention campaign. With support from Scientologists and the Church of Scientology, it provides educators with practical tools and vital information on heroin. These materials give youth the unvarnished truth about opioids and other frequently abused drugs, empowering them to make self-determined decisions to lead drug-free lives.
"This education package fills the growing demand for practical tools to help the teacher, instructor or drug prevention specialist communicate the truth about drugs swiftly and effectively," said David Scattergood, who volunteers with Seattle's Drug-Free World and other Church-supported humanitarian campaigns. "Educators throughout Washington State have ordered these packages, which are provided at no cost through our Foundation," he said.
Seattle Drug-Free World volunteers are part of an international network that has distributed more than 80 million copies of drug education booklets.
Scientologists on six continents work in their communities throughout the year to empower others with the truth about drugs. The Church and its members are dedicated to eradicating drug abuse through education.
Read the article on the Scientology Newsroom.
Source: ScientologyNews.org
Related Media