Church of Scientology Salutes Volunteers at National Volunteer Week Ceremony
Press Release
•
Apr 14, 2016
In honor of National Volunteer Week, the Church of Scientology Information Center in downtown Clearwater will honor a team whose contribution to the community is exemplary.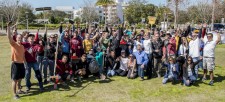 Clearwater, FL, April 14, 2016 (Newswire.com) - A National Volunteer Week award ceremony April 12 at the Scientology Information Center in Downtown Clearwater honored the volunteers of Consumer Energy Solutions (CES), a Clearwater-based energy consultancy firm whose employees are dedicated to serving the Clearwater community.
Established by presidential proclamatio­n in 1974, National Volunteer Appreciation Month (April) and National Volunteer Week (April 6–12 this year), honor the many volunteers who provide valuable and often essential services to our communities.
In his proclamation in honor of last year's National Volunteer Week, President Obama said, "During National Volunteer Week, we recognize those who embrace a life of active, energetic, and engaged citizenship, and we reaffirm our belief that all people have something to contribute to the American story. ...Through service, ordinary people can make an extraordinary impact. …The unending task of perfecting our Nation does not fall to any one person or to our Government alone—and the solutions to the problems we face do not lie beyond our reach. We must enlist all Americans in the effort to build a better future for the next generation, and we should each make service a lifelong commitment."
Serving as an example of this spirit of contribution, Consumer Energy Solutions is committed to volunteerism. CEO Patrick Clouden established an office entirely dedicated to volunteer work that organizes project for the staff to participate in, including drug education, helping disadvantaged single families and nurturing fledgling non-profit organizations. They also contribute to community gardening, neighborhood clean-ups, organizing events for at-risk youth, volunteering at the annual Clearwater Beach Chalk Festival and collecting and purchasing toys for "Toys for Tots." CES volunteers were seen most recently helping make this year's Coachman Park Easter Egg Hunt a special day for thousands of children and their families.
CES Community Relations Director Lynn Posyton noted that working together to benefit the community bridges cultural and ethnic differences. And while the purpose is community outreach and helping others, the volunteers find it tremendously fulfilling. "It is very exciting to see the joy that it brings our staff," she says.
The Scientology religion was founded by humanitarian and philosopher L. Ron Hubbard. The first Church of Scientology was formed in the United States in 1954 and the religion has expanded to more than 11,000 churches, missions and affiliated groups in 167 nations. Clearwater is home to the spiritual headquarters of the Church of Scientology. The Scientology Information Center is open to all and provides answers to questions about Scientology through its audio visual displays, exhibits and publications. ​
Source: ScientologyNews.org
Related Media