Church of Scientology of Sacramento Hosts Open House for World Humanitarian Day
Press Release
•
updated: Aug 28, 2017
More care for the community: This was the emphasis of the World Humanitarian Day open house and forum at the Church of Scientology Sacramento.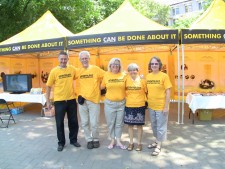 SACRAMENTO, Calif., August 28, 2017 (Newswire.com) - Active participation in the community was the theme of the World Humanitarian Day open house and forum at the Church of Scientology Sacramento, where community volunteer and activist Edgar Calderon encouraged those in attendance to get even more active in their community.
Calderon brought a wealth of experience to the forum: Working with a variety of multicultural community groups, he has served in many board positions over the years and was voted Volunteer of the Year in 2003 by the Sacramento Hispanic Chamber of Commerce. He spoke of the importance of volunteerism and acknowledged the Church of Scientology for the wonderful programs it brings to Sacramento.
The Church public affairs director presented an overview of the Volunteer Ministers program. The program, created in the mid-1970s by L. Ron Hubbard and sponsored by the Church of Scientology International as a religious social service, today constitutes one of the largest international independent relief forces.
In creating the program, Mr. Hubbard described the Volunteer Minister as "a person who helps his fellow man on a volunteer basis by restoring purpose, truth and spiritual values to the lives of others."
After the presentation, those attending were invited to join the Volunteer Ministers at their new community tent, set up that day around the corner at the Saint Rose of Lima Park. There, all day, Volunteer Ministers helped people with situations they have encountered in their lives. Volunteer Minister training spans the entire gamut of human relations, from restoring relationships and raising children to conflict resolution, setting and accomplishing goals, and Scientology assists —techniques developed by Mr. Hubbard that speed healing by addressing the emotional and spiritual factors in stress and trauma.
In times of disaster, Volunteer Ministers are often among the first to arrive and the last to leave. They have responded to earthquakes in Haiti, Chile, and Pakistan, hurricanes, typhoons, cyclones, volcanoes, tsunamis in Japan in 2011 and South Asia in 2004 and at Ground Zero New York after 9/11.
This disaster response meets the true spirit of World Humanitarian Day, added the public affairs director for the Church.
For more information visit the Volunteer Ministers website.
Source: ScientologyNews.org