Church of Scientology of New York Honors Fallen Hero
Press Release
•
Jan 1, 2016
A Christmas gift to help the family of NYPD Detective Randolf A. Holder who died in the line of duty October 20.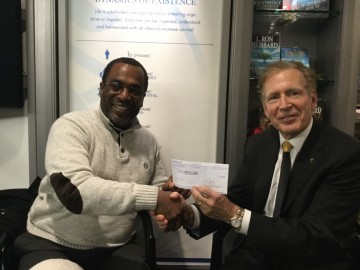 New York, NY, January 1, 2016 (Newswire.com) - Those raising funds for the family of NYPD Detective Randolph Holder received an unexpected Christmas gift this year. In appreciation of the courage and commitment of the 33-year-old officer, killed in the line of duty, the Church of Scientology of New York presented a check on Christmas Eve to Rev. Vernon Williams, representative of the Caribbean Law Enforcement Officers Association (CLEA), to help fund the memorial gala held in honor of the fallen hero. Proceeds of the memorial went to Holder's family.
Holder, who was born in Guyana where his father and grandfather were police officers, was a five-year veteran of the NYPD. He worked in the department's Housing Bureau, described on the NYPD website as "entrusted with providing for the security and delivery of police services to more than 400,000 residents, employees and guests of public housing throughout New York City." He was killed October 20 while responding to a report of shots fired in East Harlem.
For more info:
The Church of Scientology of New York
212 921 1210
Contact: Pamela Vilinsky