CHT Holdings Enters LOI to Acquire Corporation for Its CSR Platform
Press Release
-
updated: Jul 25, 2017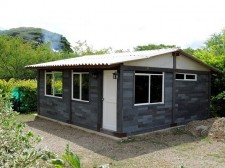 FORT LAUDERDALE, FL, July 25, 2017 (Newswire.com) - CHT Holdings, a global telecommunications company, reiterates its commitment to positively impact the world through the various corporations and markets it serves. Its team is pleased to announce a Letter of Intent ("LOI") signed between CHT Holdings and Ecoplasso, a corporation with an innovative and sustainable solution to create building bricks out of recycled plastic waste.
The plastic waste problem is one of the biggest our planet has been dealing with for many decades. Society's over consumption of plastic, coupled with an undeniable discarding behavioral, littering and thus polluting, has become a difficult environmental issue. Statistics and projections show that the amount of plastic waste sent to ocean can get to 155 million tons for 2025.
Fernando Llanos, creator and founder of Ecoplasso, which has been granted with several patents, brought together an option for managing the plastic waste issue while also solving another major global problem, the lack of decent housing for close to a billion people around the world, number that will increase to 3 billion for 2030, 40% of the world's population, according to UN Habitat.
Ecoplasso's technology, can process more than 300 tons of plastic waste monthly, per plant, to build affordable homes for $5,000 dollars. The company is currently expanding its operations into 11 countries where it plans to recycle, process and build decent housing through this sustainable solution.
"This construction model can be one of the most active and impactful solutions the world has seen in recent decades, not only for the positive environmental impact but also offering a solution to meet the needs of close to a billion people without access to decent housing in the world," said Lina Tangarife, Head of Sustainability at CHT Holdings. "Providing solutions for the basic needs of society and contributing to the reduction of the environmental footprint is key for our CSR platform, and this acquisition is just a part of a complete sustainable eco-system we are currently building," she added.
With such an immense problem at hand, CHT Holdings recognizes that sustainability to create long-term value is an inherent part to understand the role corporations have as agents of change. This action is part of an initiative to promote alliances and actions through the dynamization of the Sustainable Development Goals (SDGs) adopted by the United Nations on 2015.
CHT Holdings is currently working on other sustainable solutions to acquire, with the intention to bring together its most valuable partners. At the International Telecoms Week (ITW) in May 2017, during a presentation in front of the industry leaders, CHT Holdings' CEO, Harrison Vargas, mentioned "Very few industries enjoy the benefits of being able to have a global network of partners with the potential to reach all continents through voice, data or telecoms infrastructure, the way we do. Moreover, while our industry is responsible for building the next generation infrastructure, that will carry the vast amount of mobile data we consume today, it is our responsibility to join forces with our global strategic partners and by doing so, become agent of sustainable change".
With a track record of over 25 years in the international telecommunications market and operations in a wide range of industries, with this acquisition, CHT Holdings reiterates its CSR approach and invites industry peers to join and enhance valuable actions.
For further information or interest on the above, feel free to contact info@cht-holdings.com.
Source: CHT Holdings
Share:
---
Categories: Business Technology, Telecommunications, Recycling, Corporate Social Responsibility
Tags: CHT Holdings, Corporate Social Responsibility, Ecoplasso, Green Impact, Plastic Houses, Sustainable Ideas, Waste Management
---