Christopher M. Burket, MD, Orthopedic Surgeon, Joins OrthoAtlanta Douglasville
Press Release
•
updated: Nov 27, 2017
Dr. Christopher Burket Provides Sports Medicine Expertise to Patients in the Greater Douglas County Area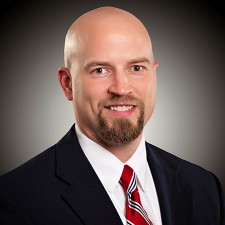 ATLANTA, November 27, 2017 (Newswire.com) - OrthoAtlanta is pleased to welcome orthopedic surgeon, Christopher M. Burket, M.D., to its orthopedic and sports medicine practice in Douglasville, Georgia. Dr. Burket's practice includes general orthopedics and sports medicine with a special interest in minimally-invasive shoulder, knee, hip and elbow arthroscopy.
"A love of science combined with a passion for sports made the study of sports medicine a natural career choice for me," stated Dr. Burket. "Tearing my ACL in college exposed me to the field of orthopedics and to medical techniques available to help patients get back to the activities they love to do after injury or illness."
A love of science and a passion for sports led me to my career in orthopedics and sports medicine.

Christopher M. Burket, MD, OrthoAtlanta Orthopedic Surgeon
Skilled at treating shoulder instability and more advanced cases of rotator cuff repair, Dr. Burket is experienced in superior capsule reconstruction (SCR), a recently developed arthroscopic surgical technique used for the treatment of massive, irreparable rotator cuffs. The SCR procedure is shown to offer integrity, stability and range of motion for this otherwise difficult shoulder repair. Other areas of Dr. Burket's practice include knee ligament reconstruction as well as total knee and shoulder arthroplasty, including reverse total shoulder replacement. Dr. Burket is also experienced in treating work-related injuries, particularly of the shoulder, elbow, hip and knee.
"Dr. Burket's balance of sports medicine expertise, experience and empathy for patient needs makes him a perfect addition to the OrthoAtlanta office in Douglasville," stated Michael J. Behr, M.D., Medical Director, OrthoAtlanta. "Dr. Burket is dedicated to finding the best solution for each patient."
Board certified by the American Board of Orthopedic Surgeons, Dr. Burket received his sports medicine fellowship at the Ochsner Sports Medicine Institute in New Orleans, Louisiana. Dr. Burket earned his Doctor of Medicine degree and completed his Orthopedic Surgery Residency at the University of Louisville School of Medicine in Louisville, Kentucky. A general surgery internship was completed at The Jewish Hospital in Cincinnati, Ohio. Dr. Burket graduated Magna Cum Laude from Bellarmine University, Louisville, Kentucky, with a Bachelor of Arts degree in Chemistry.
Professional memberships for Dr. Burket include the American Academy of Orthopaedic Surgeons, American Orthopaedic Society for Sports Medicine and the Arthroscopy Association of North America. Dr. Burket will be affiliated with WellStar Douglas Hospital in Douglasville.
While completing his sports medicine fellowship in New Orleans, Dr. Burket served as an Assistant Team Physician for the New Orleans Saints (NFL) and New Orleans Hornets (NBA). He has also served as Team Physician for Dillard University men's and women's basketball program as well as several local high schools and indoor sports leagues. Upon joining the OrthoAtlanta Douglasville practice, Dr. Burket is pleased to serve as the team physician for Douglas County High School in Douglasville, Georgia. Relocating to the Atlanta area with his wife and two children, Dr. Burket's interests include weight lifting, mountain biking, and cooking. He also greatly enjoys spending time with his family, including coaching his children's t-ball and baseball teams.
Appointments with Dr. Christopher Burket may be requested at the OrthoAtlanta Douglasville office, 770-949-8558 or online at OrthoAtlanta.com via the patient portal.
About OrthoAtlanta
OrthoAtlanta is the second-largest physician-owned orthopedic and sports medicine practice in the greater Atlanta, Georgia area. With 39 physicians serving in 13 offices, the practice provides the highest level of patient care for injury or deformity of muscles, joints, bones and spine. OrthoAtlanta offers convenient accessibility to a full range of musculoskeletal surgeons, specialists and patient services including on-site physical therapy, pain management care, seven MRI imaging centers and workers' compensation coordination. OrthoAtlanta Surgery Centers in Austell and Fayetteville provide cost-effective, same-day surgical procedures in an accredited outpatient center. Comprehensive operative and non-operative musculoskeletal care and expertise includes sport medicine, arthroscopic surgery, hip replacement, knee replacement, neck and spine surgery, hand and wrist surgery, elbow and shoulder surgery, foot and ankle surgery, pain management, arthritis treatment, general orthopedics, work-related injuries and acute orthopedic urgent care.
Learn more at www.OrthoAtlanta.com.
For additional information, please contact Pat Prosser, Public Relations Manager, at OrthoAtlanta.
Source: OrthoAtlanta
Related Media
Tags
Additional Links