Christopher Longsworth Launches Construction of PIXL in 2020
Press Release
•
updated: Jan 15, 2020
Christopher Longsworth with Invesca Development Group, Launches Construction of PIXL in 2020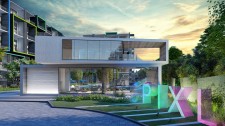 FORT LAUDERDALE, Fla., January 15, 2020 (Newswire.com) - PIXL at Plantation, a state-of-the-art, modern community aiming for the millennial market, being developed by Christopher Longsworth's Invesca Development Group, has been approved by the Plantation City Council and is scheduled to first break ground in the first half of 2020. It's a unique, vibrant community, with 330 smart home units will be a combination of studios, 2 bedroom and loft condominium homes, and duplexes.
Improvements to the overall area and five-year plan for the Sunrise Boulevard corridor were strongly considered prior to Invesca purchasing land and plans to build out PIXL. Over $400 million in new improvements are already underway less than 3 miles from Strata - townhouse community, Invesca's Phase One development in the area, and will include commercial shops, dining and retail and a $200 million redevelopment of The Fashion Mall.
According to Christopher Longsworth, founder and chief executive officer (CEO) of Invesca Development Group, "The units at PIXL will overlook an unprecedented 3 acres of resort-style amenities that will focus on an active, social lifestyle."
The studio houses at PIXL will be 600 square feet while the duplex homes will be 1,200 square feet, featuring up to 18-foot high ceilings. The residential mix will be made of 86 studios, 3 one-bedrooms, 40 two-bedroom units, and 201 loft-like one-bedroom units. The double-height duplex units are planned to be in the main building which has 6 floors in all.
Amenities will include:
● Rock-climbing
● 24-hour virtual concierge
● Dog park with dog beach
● Interactive VR training
● Outdoor movie theater
● Virtual Reality arcade
● Zen Garden with lush trees and art sculptures
● Aqua theater
● Resort-style pool and spa
● And much more
PIXL is passionate about combining home life and the work lifestyle harmoniously in a comfortable environment in the form of a pro-active community. To provide everyone with a unique open view scene, each structure is thoughtfully placed. The natural scenery and outside location gives a refreshing ambiance as well and has proven to have many activities and resources for entertainment. You will be surrounded and living in an uplifting environment that features the PIXL's subtle and effective simplicity.
Along with all of these characteristics, PIXL displays a unique style effectively that inspires taste and elegance. The conveniences here will improve your way of living immensely. PIXL is going to be both a new frontier in Invesca's future and neighborhood communities.
Source: Invesca Development Group