Chowly Nets $5.8M for Its Restaurant POS Integration Technology
Press Release
-
updated: Jul 12, 2018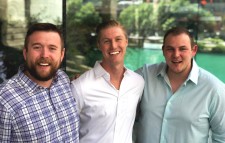 CHICAGO, July 12, 2018 (Newswire.com) - Chowly, a bridge between popular Restaurant Delivery Services such as Uber Eats and DoorDash and a restaurant's POS system, has closed a $5.8 million Series A funding round to fuel mass market expansion in the US.
MATH Venture Partners out of Chicago led the round with participation from Valor Equity, Chicago Ventures, Hyde Park Venture Partners and others.
The Chicago-based startup was founded about two years ago and has quickly expanded to over 200 cities in the US.
Over 1500 restaurant brands are using the service to fix the "tablet hell" that is occurring in their kitchens. Whether it be high growth fast-casual brands like B.Good, long-standing classic delivery groups like Jet's Pizza, or legendary diner-style brands like Shari's Café & Pies, Chowly is simplifying technology for restaurant groups of all types.
"While our roots began in the SMB restaurant space, we quickly found this problem was affecting almost all restaurant types regardless of category or size. Everyone is delivering now, and it's not an easy process to navigate," says Co-Founder and CEO Sterling Douglass.
"At the moment we are mainly focused on replacing 98% of the interaction with a tablet, and that's the order entry piece," stated Douglass. "As our product team is growing, we're adding on additional functionality to really get all the technology restaurants need integrating directly and completely into their POS."
Here's how Chowly helps a restaurant: An order comes through from one of the third-parties a restaurant is signed up with (Chowly covers over 100 third-party brands). Chowly grabs the order information, maps the items, modifiers, and any special comments to the POS system and opens a ticket at the restaurant by leveraging the POS's API. Restaurant operations flow as normal through make stations or any KDS (Kitchen Display System) just like it would if it were entered in the system manually – Except without any of the labor of manual entry.
This saves the restaurant money (labor savings), makes them more money (add-on platforms without worrying about another tablet), and makes their customers happier (99.6% accuracy).
Chowly's focus is working with third-parties, POS systems, and maintaining the menus in between. Lining up APIs is only part of the battle. Chowly's proprietary mapping tool and skilled Chicago-based mapping team checks for menu changes on both the restaurant's POS menu and its integrated third-parties then makes updates as changes arise. This saves the restaurants loads of time, especially those brands that are growing quickly or changing menus often.
"While our tool takes advantage of machine learning and other techniques, we're extremely proud of our team and their white-glove approach to serving our restaurant partners. Customer service is incredibly key in the fast-paced restaurant world and we strive to achieve an amazing service level" says Co-Founder and Chief Product Officer, Justin McNally.
Chowly achieved 20% month-over-month growth in 2017 MRR and is actively hiring substantial headcount to help keep up with the influx of restaurant interest in its service.
Restaurants pay Chowly a monthly fee based on the number of third-parties Chowly is integrating and the volume of orders going through the system.
Troy Henikoff, Partner at MATH Venture Partners, will be joining the Board of Directors.
"We've been working with Chowly since their seed round in 2016 and have been excited by the team and the problem they're solving" Troy stated. "Restaurants have an insatiable craving for additional sales through these third-parties, but the operational nightmare they created prevented them from maximizing this opportunity. Chowly solves that."
As Chowly's CEO puts it, "Third-party ordering platforms can be so advantageous for a restaurant, but it adds complexity if it doesn't work with their POS. Chowly's sole mission is to simplify technology for restaurants. If we keep doing that, there's no limit to how much we can grow."
About Chowly: Chowly is on a mission to simplify restaurant technology. We believe that all systems should communicate with the "brain" of the restaurant, the Point-of-Sale System. Currently, Chowly integrates Third-Party Delivery Orders (TOOS) to the POS system in the restaurant. Third-Party Delivery platforms such as Uber Eats and DoorDash are growing at a rapid rate in the restaurant space with projected revenue totals of $73 billion dollars by 2020. Instead of restaurant employees manually entering delivery orders from one to twelve tablets around the POS, Chowly automatically confirms delivery orders, integrates those orders into the POS system and sends them directly to kitchen printers all within 15 seconds of a customer placing an order. Chowly, the market leader in the TOOS to POS integration space, currently helps restaurants streamline the delivery process and simplify technology in over 200 cities across the US, Canada, and Mexico.
Source: Chowly, Inc.
---
Categories: Business Technology
Tags: Delivery, Food Delivery, POS, POS Integration, Restaurant, Restaurant Technology, Third-Party Delivery
---