ChowBOT by Meerchant Now Available in First Data Clover® App Market
ChowBOT brings advanced online ordering and process management to quick-serve restaurants
Press Release
-
updated: Jul 20, 2018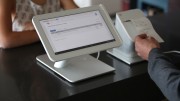 SAN FRANCISCO, April 4, 2016 (Newswire.com) - Meerchant, the San Francisco-based provider of SaaS restaurant technology, today announced the availability of its first app, ChowBOT, in First Data's Clover® App Market, one of the largest POS app markets currently available. ChowBOT helps restaurants easily establish their own online ordering portal and/or aggregate orders from third party delivery services in order to modernize and streamline the takeout/delivery process. With ChowBOT, restaurants can throw away the fax machines, forget about re-keying orders, shrink the time employees spend on the phone taking orders, help restaurants save on commissions and ensure great experiences for customers.
The takeout and delivery market is estimated at nearly $70 billion dollars, with only $9 billion coming from online orders. Meerchant Co-founder and CEO, Gerardo Capiel, says, "There is a tremendous opportunity for restaurants to drive revenue through online orders. When they establish their own portal they make more money and continue to own the relationship with their customers. While many restaurants are benefiting from delivery aggregators that bring in new customers, these services are also causing workflow issues in the restaurant. Our goal is to eliminate the friction around online orders so that restaurants can focus on what they enjoy doing most - preparing food."
"We were up and running with ChowBOT with one click and we haven't looked back since," says Jeff Krupman of PizzaHacker in San Francisco. "ChowBOT has turned to-go orders from a pain to a pleasure. Due to limited parking in our neighborhood, our customers struggled picking up to-go orders. Now, with ChowBOT, customers can choose curbside pickup and be kept abreast of the status of their orders. As soon as the order is ready, they are notified via the app. As soon as they are outside, we are notified and can run the order out to the car. ChowBOT has made me a hero to my customers who never have to find a parking space again."
"ChowBOT has turned to-go and delivery orders into a significant source of revenue for the restaurant," says Abed Amas, owner of Fattoush in San Francisco. "We saw a 30-40% lift in sales when we began using ChowBOT. ChowBOT consolidates orders from across multiple platforms and even arranges for Postmates delivery, automatically. The workflow is seamless and makes servicing our customers a pleasure, regardless of how they order from us."
"ChowBOT's success in the First Data Clover App Market reinforces that restaurant owners want new technology that improves workflow and communication with customers," said Mark Schulze, Head of App Market at Clover. "Clover and apps like ChowBOT not only streamline day-to-day operations but also equip restaurant owners with tools and resources formerly only available to large chain establishments."
Merchants using a First Data Clover® device can download a free 30-day ChowBOT trial in the First Data Clover App Market by visiting bit.ly/1WOZ64O. To learn more about the features available in ChowBOT, please visit www.meerchant.com.
About Meerchant: Founded in 2015, Meerchant was built on the belief that small merchants are the building blocks to a vibrant and culturally-rich environment. We believe helping these small merchants to be competitive in today's rapidly evolving digital landscape creates a more diverse set of choices for customers and a stronger economic fabric from which to build communities. Meerchant builds solutions that bring automation and new revenue opportunities to brick and mortar businesses and new services that earn loyalty and gratitude from their customers—solutions previously only available to large chains with large technology budgets. For more information, email info@meerchant.com
Source: Meerchant
---
Categories: Business Technology, Restaurants, Bars, and Catering
Tags: ChowBOT, Clover App, Meerchant, Online Restaurant Ordering Solution
---