Choking Baby's Oral Restrictions Treated With Laser
Press Release
-
updated: Dec 30, 2016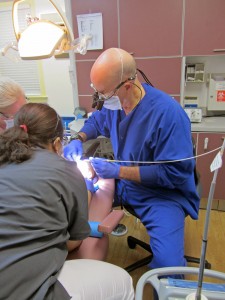 Stoughton, MA, December 30, 2016 (Newswire.com) - Dr. ​​​​​Martin Kaplan, DMD, DABLS, a Stoughton, MA based pediatric dentist performs 21st century laser lip- and tongue-tie releases for infants.
After watching the TV news story, "11-Year-Old Girl Saves Newborn Sister From Choking", Dr. Kaplan thought he recognized a reason for the newborn's life threatening choking. Touched by the story, Dr. Kaplan reached out to the mother and provided complimentary examination, consultation, and ultimately a laser lip- and tongue-tie release for baby Miranda.
"Baby Miranda was previously diagnosed with laryngomalacia,​ and the mother was told that the baby will eventually outgrow the problem. What mother wants to live with that problem? After a thorough evaluation, I diagnosed a tongue-tie and a lip-tie which clearly exacerbated the baby's nursing difficulties and choking. The treatment was a simple in-office procedure with a LightScalpel CO2 laser, followed by a referral to an IBCLC (International Board Certified Lactation Consultant). Mother and baby are doing great. I did not charge for this case as I did it for the right reasons. Of course, if it hadn't been an appropriate case to treat, I would not have done it and wouldn't have gotten her immediate IBCLC attention. This is a topic of concern for me - doctors unnecessarily putting babies at risk, often placing them on reflux medication when there is no need. A friend of mine - a forensic dentist - is even evaluating babies who died of SIDS for tongue- and lip-ties because there can be a link to aspiration and choking," says, Dr. Kaplan.
Most people are aware of the health benefits of breastfeeding infants. A lip- and tongue-tie release procedure can dramatically improve breastfeeding for some babies and their mothers. Dr. Kaplan says that his office currently receives at least 10 calls a day for appointments to evaluate newborns and infants for lip- and tongue-ties.
About Dr. Martin Kaplan, DMD, DABLS
Dr. Kaplan has been a pediatric dentist at Kids Care Dental in Stoughton, MA since 1977. He is very passionate about educating health professionals and the public about this health problem that has a simple solution and is often overlooked. He is a developer of a continuing education class on Infant Laser Frenectomies at Tufts University School of Dental Medicine, with attendees from across the globe. He is currently in the process of final editing of a surgical atlas for this issue. Dr. Kaplan is Diplomate of the American board of Laser Surgery and exclusively performs infant frenectomies (lip- and tongue-tie release) with a laser, which is a quick and gentle procedure. Unlike conventional scissors or dental diodes that cut with hot glass tips, Dr. Kaplan's LightScalpel CO2 laser uses the non-contact photon-based technology utilized across many surgical specialties, including plastic and cosmetic surgery where quick, uncomplicated, and scar-free healing is essential.
Media Contact:
Martin Kaplan, DMD, DABLS
Phone: (781) 341-0320
Email: martin.kaplan4@verizon.net
Source: Dr. Martin Kaplan, DMD, DABLS
Share:
---
Categories: Healthcare, Parenting, Healthcare and Medical News, Healthcare Technology, Dentistry, Pediatrics
Tags: breastfeeding, dentistry, frenectomy, infant, laser, laser frenectomy, lip-tie, nursing, pediatrics, tongue-tie
---