Chino Valley Ranchers' Chicken Scratch Advertisement Named Best Online Commercial in the 44th Annual Telly Awards
Press Release
•
May 24, 2023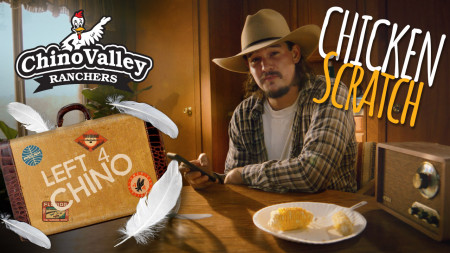 COLTON, Calif., May 24, 2023 (Newswire.com) - Chino Valley Ranchers, a California-based producer of sustainably raised eggs, announced today that its captivating advertisement, titled "Chicken Scratch," has been honored with the prestigious Best Online Commercial award at the highly acclaimed 44th Annual Telly Awards. The Telly Awards recognizes outstanding achievements in video and television across various platforms, with a panel of esteemed judges from leading organizations, including Adobe, BBC World Service, Netflix, Dow Jones, Complex Networks, Jennifer Garner, A&E Networks, Hearst Media, Nickelodeon, National Geographic Society, ESPN Films, RYOT, Partizan, and Vimeo.
The winning advertisement from Chino Valley Ranchers is a testament to their commitment to delivering exceptional quality and creativity in their marketing campaigns. It showcases the company's dedication to breaking through the noise and standing out among its competitors. Sabrina Dridje, the Executive Director of the Telly Awards, remarked, "The caliber of work presented by Chino Valley Ranchers truly embodies the spirit of innovation and uniqueness."
Chris Nichols, CEO of Chino Valley Ranchers, expressed his excitement and gratitude for receiving the prestigious award, stating, "We are thrilled to be recognized for our efforts in creating compelling advertisements that resonate with audiences. This achievement reaffirms our commitment to excellence and our dedication to delivering exceptional products."
Chicken Scratch is presented in a music-video format and features a lovelorn rancher jilted by his favorite chicken who has flown the coop for Chino Valley. A string of puns delivered in convincing country heartbreak style culminate in the tagline, "The Grass Is Greener at Chino Valley." (View the ad here.)
The song was written and performed by Nathan Kenyon at Anthem Entertainment/BMI, with supplemental lyrics composed by Alex Ribble, founder of Big Chief Creative Media (BCCM) — the agency behind the ad. Additional credits go to the ad's Writer/Director Tyler Wolff, Director of Photography Keith Leman, Editor/VFX A.J. Rickert-Epstein, and Music Producer Gabe Foust.
With over a million views on YouTube alone, the catchy ditty has all the makings of a smash hit. Nate Kenyon's performance is irresistible, and viewers hope the ad will run again just so they can learn the words and sing along.
About Chino Valley Ranchers
A family-owned company founded in the 1950s, Chino Valley Ranchers is dedicated to bringing the freshest, healthiest and best-tasting eggs to your table. Chino Valley Ranchers eggs are certified by American Humane and carry the American Humane Certified seal.
Learn more about Chino Valley Ranchers at https://www.chinovalleyranchers.com.
Source: Chino Valley Ranchers