Chin Communications and Translation on the Award List Again
Ethnic Business Awards Small Business Finalist, 2019
Press Release
-
updated: Nov 1, 2019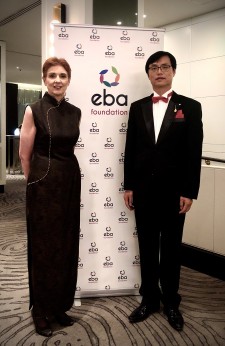 MELBOURNE, Australia, November 1, 2019 (Newswire.com) - On the awards stage again – this time in Sydney – Chin Communications has achieved another accolade as Finalist for Small Business in the Ethnic Business Awards, celebrating the inspirational achievements of migrants to Australia. The awards are in their 31st year.
Charles Qin, Managing Director of Chin Communications, in receiving the accolade, pointed out that there had been a lot of bad press about China recently and asked for consideration: "Where would we all be without China!"
Twenty-eight years ago, when Charles migrated to Australia, the country was coming out of the "recession we had to have" – not the best time to arrive in a new land. Then along came China. "The naysayers laughed when I told them I was going into the China business in 1992," Charles said. It looks like a pretty good decision now. China has underpinned Australia's economic success story. And Australia is now home to over a million Chinese since the first migrant arrived in 1818.
Charles, in his long career, has been involved in some momentous occasions and borne witness to China's success story. He has interpreted for all prime ministers since John Howard, served governors, premiers, presidents and world leaders in his capacity as a Mandarin Interpreter here and around the world.
Chin has been involved in many important bilateral meetings, celebrations of Diplomatic Relations, and Sister-State and Sister-City relationship events. Charles worked for many years and a number of trade ministers on the China-Australia Free Trade Agreement. The Chin Team is requested for many of the significant China activities taking place in Australia.
About Us
Chin Communications has been delivering language services and communications services for 27 years from its head office in Melbourne and is widely regarded as one of the leading Chinese communications specialists in the region. In addition to Chinese, Chin regularly supports up to 50 other languages in the community and business. In recent years, Chin has opened a new division delivering marketing, social media and design services to its clients.
The awards just keep on coming. Last year, Chin received the prestigious Melbourne Award – Multicultural Corporation and the language industry's highest honour – Excellence in Interpreting Award – for its work. Well done Team Chin. 
Source: Chin Communications
Share:
---
Categories: Marketing
Tags: Australia-China, Ethnic Business Awards, Melbourne
---