Chilean Innovation Led by Women: From Salvia Gin to Bacteria That Clean Water
Press Release
•
updated: Jul 22, 2021
Jewelries from Rapa Nui, mystic vineyards cultivated by Lickanantay indigenous community, honey produced in the driest place in the world, native Chilean gin, water purification bacteria: these are just a few examples of what you'll find at #MujerExporta2021, the main online event to foster international trade for companies led by Chilean Women.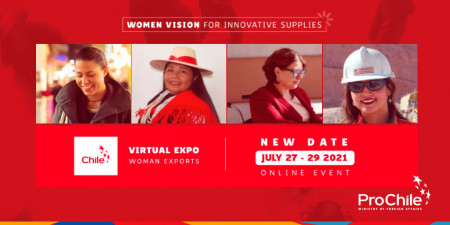 MIAMI, July 22, 2021 (Newswire.com) - Mujer Exporta Event is part of ProChile's inclusive international trade strategy, Female Economic Empowerment being the object of more than 25 trade agreements, events and trainings focused on the commercial expansion of companies led by women in order to provide access to commercial opportunities, support internationalization and increase their presence in the United States.
"Last year, 472 companies run by women and supported by ProChile exported more than 1,000 million dollars of agri-food products to 111 world markets, despite the impact on trade and global mobility of confinement due to the Covid-19 pandemic. Of the total, 150 companies led by women shipped their products to North America," says Jorge O'Ryan, ProChile General Director.
This year, Mujer Exporta will hold its first online edition, July 27 to 29, with a focus on four sectoral pavilions highlighting the country's unique exportable offer of goods and services: Agriculture & Food, 4.0 Industries, Services and Creative Industries.
The Ancestral Pavilion is not only the largest one, but will be showcasing goods and services of 28 companies led by indigenous women as part of the Internationalization Program of Indigenous People initiated by ProChile a few years ago. With such a strong cultural heritage coming from the Aymara, Quechua, Mapuche, Rapa Nui, Diaguita, Kawésqar, indigenous producers stand out in crafts, goldsmithing, and textile entrepreneurship.
Register for free here or check the One Click Import tool if you're interested in trade.
Media Trends Group PR Team
usa@mediatrendsgroup.com
Source: ProChile US