Children's Learning Adventure Offers Colorado Parents Free Child Care Options as Strikes Spread
Press Release
•
updated: Apr 24, 2018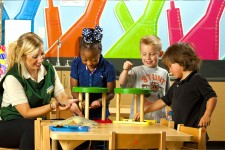 SCOTTSDALE, Ariz., April 24, 2018 (Newswire.com) - Schools are closing throughout the U.S. as teacher strikes continue to grow. Colorado is the latest state in which teachers are planning a walkout to protest teacher pay and school funding. The walkout is set to take place later this week, as several Colorado school districts have announced that they will be closed during this time. Children's Learning Adventure is offering drop-in care and other various programs to help families who are in immediate need of childcare during this time.
In an effort to relieve some of the stress caused by the strike, Children's Learning Adventure is waiving its registration fee and all first-time families will receive their first day free (based on enrollment availability).
Affected families can enroll at one of Children's Learning Adventure's three Colorado locations. Locate a center near you here.
- Thornton
- Centennial
- Parker
Children's Learning Adventure's School Age curriculum assists students with team building and character development through meaningful activities to ensure students develop pro-social behaviors to be successful in life. The School Age programs offer enrichment for Before and After School, Summer Camp, and Holiday Camp. Programs feature an environment that combines freedom and structure with the right mix to inspire, while assuring the student's safety. Children's Learning Adventure offers an After-School Homework Club, to provide teacher assistance and a structured environment for students to complete daily assignments.
Children's Learning Adventure's curriculum ensures daily exposure to STEAM-based learning through multiple learning environments. They have created specialty classrooms including: Culinary Creations – a specialized commercial kitchen where students explore a passion for cooking; Imagination Island – a dramatic play town where students share and develop interpersonal skills; Laboratory Lagoon – a dedicated math and science environment designed to encourage questioning, experimentation, and scientific discovery; Reading Reef – a complete library that instills the love of reading with an extensive collection of literary interests; Nature's Nook – an outdoor classroom to provide your child with hands-on experiences that lead him/her to a greater understanding of nature and all it has to offer; Picture Paradise – a live TV studio, complete with its own news desk and professional TV cameras. These are just a few of the specialty classrooms that encourage students to develop new skills. Students begin the day in their academic homeroom, then explore subjects further in specialty classrooms. Each specialty classroom is dedicated to a specific subject so students are given the opportunity to predict, implement, and discover new ideas.
Children's Learning Adventure's programs include infant, toddler, preschool, pre-kindergarten, advanced pre-kindergarten, kindergarten, after school, extracurricular classes, school breaks and summer camp. Early childhood education is critical in the development of a child's mind, each program is created specifically to maximize learning for the age range. Math, science, and language concepts repeat every six weeks incorporated in the monthly themes within the Lifetime Adventures® curriculum. To learn more about Children's Learning Adventure call 844-330-4400 or visit www.childrenslearningadventure.com.
For More Information Please Contact:
Kyle Greenberg
Creative Manager - Children's Learning Adventure
​kgreenberg@childrenslearningadventure.com
480-315-7970
Source: Children's Learning Adventure
Related Media