Children's Learning Adventure Finds the Answer to Maintaining School Break Stimulation
Press Release
•
updated: Nov 7, 2018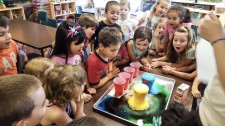 SCOTTSDALE, Ariz., November 7, 2018 (Newswire.com) - A child's school break doesn't need to be a break from mental stimulation. At Children's Learning Adventure, students are always gearing up for a new adventure. When school is out, it is "in" to join the fun by attending camps. Each school break and summer camp at Children's Learning Adventure offers a specialized, uniquely designed curriculum that encompasses STEAM learning and literacy. Each theme is developed to engage students of all levels in science, technology, engineering, the arts and mathematics.
In providing a loving, nurturing environment, Children's Learning Adventure's goal is to help children become confident, independent learners who develop a strong sense of self-worth, enabling them to make positive life choices. To ensure that every child has the proper tools to grow, STEAM-based (Science, Technology, Engineering, the Arts and Mathematics) learning curriculum is incorporated into all Children's Learning Adventure's school break camps. By infusing multiple activities into their STEAM-based curriculum, Children's Learning Adventure builds on a child's natural problem-solving skills, building the foundation for critical thinkers.
CEO Rick Sodja explained further, "A high priority of ours is to instill a love for learning in students through fun and interactive activities. These activities allow students to discover and explore areas they are interested in while learning about something new." Working collaboratively with parents, Children's Learning Adventure is committed to developing students into lifelong learners.
To help students develop into lifelong learners, it is important for them to get "plugged in" and stay engaged in their educational development throughout the whole year, both inside and outside of their school environment. Children's Learning Adventure has created six programs, from infant care to after school, to promote and help students of all ages grow and learn.
Students at Children's Learning Adventure are presented with specific instruction providing opportunities for rich vocabulary learning, collaboration with peers and acquisition of scientific knowledge. Children's Learning Adventure's curriculum engages students in hands-on learning activities to spark curiosity and open new avenues for engagement.
To learn more about Children's Learning Adventure and their upcoming 2018-2019 holiday break camps please visit www.childrenslearningadventure.com.
Media contact:
Kyle Greenberg
kgreenberg@childrenslearningadventure.com
Creative Manager
Source: Children's Learning Adventure
Related Media