Children's Hospital Association and Judgment Index Develop a Working Relationship Agreement
Press Release
•
updated: Jul 26, 2017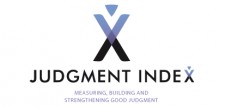 CHATANOOGA, Tenn., July 26, 2017 (Newswire.com) - Judgment Index USA, a global marketing and consulting organization with USA headquarters in Chattanooga, TN (www.judgmentindex.com) is pleased to announce a new agreement that allows a close working relationship with children's hospital members of Children's Hospital Association (https://www.childrenshospitals.org).
The Judgment Index™ is a unique assessment tool that provides quantifiable measurements of one's judgment capacity to meet the judgment demand in the workplace. It is used in Employee Selection, Employee Engagement, Risk Management & Safety, Wellness and Leadership Development. In addition to the healthcare industry, the tool is used successfully in scores of other industries to assist in the growth and development of employees worldwide.
The JI will help children's hospitals in placing the right people in the right position. It is not a personality, IQ, emotional balance or physiological tool. It will clearly measure one's evaluative judgment capacity and strength of that judgment under stress. This new agreement integrates several advantages for a member hospital in their quest for Human Capital growth and improvement. Their patients, our children, deserve nothing less.
According to Doug Dean, Chief Human Resource Officer of Children's of Alabama (3rd largest Children's Hospital in the USA), "I do believe the Judgment Index™ assessment can be a valuable difference maker on numerous fronts for any hospital or business organization which commits to its powerful applications."
Doug Dean – Speaks on the positive use of the Judgment Index
http://www.judgmentindex.com/video-DougDean
Introduction of Doug Dean (0:00)
Leaders of Organizations uncomfortable with assessments (0:27)
Culling process is problematic (0:58)
Supply is limited (1:13)
The development of B&C employees is imperative (1:47)
Judgment Index - Exciting because of positive, construction aspects (2:06)
Judgment Index - LMS for improvements in specific areas (2:45)
Individuals CAN be improved (3:22)
Summary (4:02)
Ending Statement: Judgment index a game changer (4:33)
MEDIA CONTACT: Roger Wall, Chief Marketing Officer
Email: info@judgmentindex.com
Phone: 423.510.1903
Source: Judgment Index USA