Children's Adventure Book 'The Noodle Society' for True Pasta Lovers
Press Release
•
updated: Aug 18, 2017
The story follows four young chefs from the U.S., France, Japan and Switzerland on their trip to the secret Noodle Society Headquarters.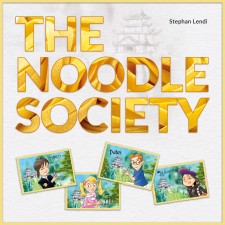 Zurich, Switzerland, August 18, 2017 (Newswire.com) - Swiss Author Stephan Lendi has released his new book "The Noodle Society", which is a children's adventure tale that follows four talented young chefs on their trip to the secret Noodle Society Headquarters. The story includes fun facts on the history of noodles and the way noodles are prepared and eaten around the world. It inspires young readers to follow their passion for cooking and discover new flavors and textures while expanding their cultural horizons.
In the story, Jill from the U.S., Liliane from France, Miko from Japan, and Peter from Switzerland take part in competing against one another with their own noodle dishes to become a member of the Noodle Society – a secret society of only the most talented noodle chefs. As the children move through the various rounds of the competition, they advance their recipes and refine their cooking techniques and passion for noodles. They also develop an understanding of the cultural background of their competitors. Through the story, readers come to know the characters and wonder which young chef will convince the jury they are the best and be given the honor of becoming a member of the secret Noodle Society.
Lendi, who currently resides in Zurich, is a Swiss marketing and communications professional with a passion for food and cooking. When he was taught to fold Gyozas the Japanese way by his Japanese friend's grandmother, he fell in love with the Japanese cuisine from Izakaya style cooking to high-end Kaiseki creations.
"The story was really grown out of my passion for cooking and travel," says Lendi. "I have always loved to travel, especially to Japan, China, various European countries, the U.S., and Canada. I find a lot of joy in discovering the stories of the people I meet on my journeys, tasting local food, and talking to local chefs about their stories and passions."
Lendi is also the CEO of Newbury Media & Communications. During his professional career as a communications coach, he has specialized in body language, professional speaking, voice and moderation skills coaching. With more than 15 years as one of the leading voiceover artists in Switzerland and corporate voice of many globally known companies, Lendi feels at home behind the microphone and onstage as the host of various corporate events, panel discussions and cooking shows.
"The Noodle Society" is available as an e-book for Kindle on Amazon, softcover on Amazon, and as an audiobook on Audible.
About Newbury Media & Communications Ltd
Newbury Media & Communications is the communications agency of Swiss communications professional Stephan Lendi. He is a keynote speaker and author of various books. For more information, visit Newbury.ch.
Press Contact
Stephan Lendi
+41 79 501 56 59
lendi@newbury.ch
Source: Newbury Media & Communications Ltd
Additional Links