Childhood is Not a Mental Disease, Protesters Say
Press Release
•
updated: May 17, 2017
Citizens Commission on Human Rights marches to raise awareness of psychiatry's labeling and 'treating' Swedish children with dangerous, mind-altering psychiatric drugs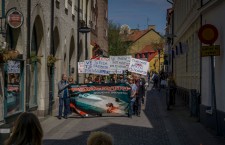 Lund, Sweden, May 17, 2017 (Newswire.com) - A group of human rights activists marched through the town of Lund May 6 to raise awareness on a practice that has put more than 40,000 Swedish children at risk.
A report submitted to the UN Committee on the Rights of the Child by Kommittén för Mänskliga Rättigheter and Citizens Commission on Human Rights Europe found: "Over the last decade, Sweden has experienced a dramatic increase in the number of physically healthy children and adolescents being diagnosed with so-called learning or behavioural disorders — mainly Attention Deficit Hyperactivity Disorder (ADHD)."
From 2003 to 2013, ADHD drug prescriptions for children age 5 to 14 increased 580 percent. In that same period, prescriptions of the drugs among all age groups, many of whom were prescribed these drugs as children, increased 1,360 percent. This has resulted in an even steeper increase in the number of calls to the Swedish Poisons Information Centre about children and adults being poisoned by these drugs.
Numerous reports and governmental warnings have been issued on the misdiagnosing of children with such labels and on the effects of the types of drugs used to treat ADHD. Warnings have been issued by most national medicine agencies of European Union member states, the European Medicine Agency, the Commission of the European Union, the U.S. Food and Drug Administration, the International Narcotics Control Board and the United Nations Committee on the Rights of the Child, and others. They warn that children using these drugs may suffer mental side effects ranging from behavioral abnormalities, visual hallucinations, suicidal ideas, psychotic behavior, aggression and violent behavior. They may also suffer heart attacks, strokes, liver damage and sudden death.
CCHR volunteers marched through the cobblestoned Medieval town with banners and drums to alert parents to the peril their children face from these dangerous drugs.
Citizens Commission on Human Rights is a nonprofit charitable mental health watchdog co-founded in 1969 by the Church of Scientology and professor of psychiatry emeritus Dr. Thomas Szasz. It is dedicated to eradicating psychiatric abuses and ensuring patient protection.
Read the article on the Scientology Newsroom.
Source: ScientologyNews.org
Related Media