Child Steps International Presents- the LAW+YOU Radio Show on UNMIL Radio, Monrovia, Liberia
Press Release
-
Jul 13, 2016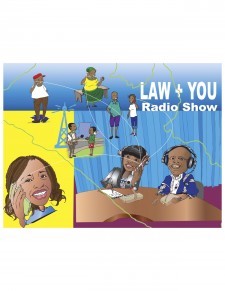 Monrovia, Liberia, July 13, 2016 (Newswire.com) - A new radio show teaching civics, human rights and peace building launched this month in Monrovia, Liberia. The LAW+YOU Radio Show now airs weekly, 4pm Tuesday afternoons, on UNMIL (United Nations Mission in Liberia) Radio. "LAW+YOU" Radio Show is a good initiative for Liberia at this sensitive time," said Abubaker Saliah, supervisor for Education and Youth Programs for UNMIL Radio. "It promotes democratic governance, social justice, human rights and many other elements vital for upholding peace and stability in the country."
The program is based on the curriculum from Child Steps International Liberia (CSI), funded by Open Society Initiative for West Africa (OSIWA). "We began working with Child Steps International Liberia four years ago when they started LAW+YOU in schools. We are very happy to see the program take strong roots and move out into communities. We are thrilled that UNMIL has now provided the platform for open access to it," said Massa Crayton, OSIWA (Open Society Initiative for West Africa) Liberia Country Officer. "Access to civics knowledge at home, community and school is one of the most useful keys that opens the door to civic participation."
The show is based on the LAW+YOU civics curriculum launched in pilot schools in Liberia in 2013 by Tenneh Johnson Kemah, President and Founder of Child Steps International, and Anna Lustre, a writer who has worked with the agency since it opened. Due to the Liberian Civil War, which spanned from 1989 – 2003 and deprived thousands of children the chance to attend school, the LAW+YOU program expanded to become a community program this year. "It was important to us to have a low/no literacy program that was accessible to everyone in the community," said Johnson Kemah.
With the upcoming elections in Liberia in October 2017, local and international groups are working in Liberia to ensure a smooth transition of power. Channeling differences into respectful debate and nonviolence is one of the goals of the LAW+YOU Radio Show and curriculum.
"Citizens need to have knowledge of the government before they can participate, said Ms. Johnson Kemah. "Democracy only works if people participate, and no one can effectively do that if they don't understand how the government works and what their rights are." Ms. Johnson Kemah's background in social work has also informed another element of the show. "There is so much research about the need for social emotional learning when it comes to peace building," she said. "We have incorporated ideas around acceptance, cooperation, accountability, respect and conflict resolution, which are the building blocks of peace."
The LAW+YOU Radio Show will cover topics such as the structure of government, property and tax law, corruption and transparency, human rights, voting, conflict resolution, public health, economics and civic participation. 
The show will include interviews with experts and citizens, callers voicing their views, listener games and a segment highlighting the work of individuals improving their communities. "Besides an understanding of government structure and function, we want to highlight the stories of everyday people who are just working hard in their own communities to make a difference," said Henrique Wilson, the show's host.
Along with Wilson, UNMIL Radio staff, Martina Brooks will produce the show and co-host. 
"It's a call-in show, so we are hoping for some lively discussions about the topics... but always with respect," said Brooks.
Upcoming topics include:
July 12: Democracy and the Constitution
July 19: Branches of Government & Separation of Powers
July 26: Celebrating Our Independence
August 2: How and Why We Vote
August 9: Human Rights
August 16: Children's Rights
August 23: Disability Rights
August 30: Rights & Responsibilities of the Citizen
September 6: Nonviolence & Conflict Resolution
Danesius Marteh will also be gathering stories for the LAW+YOU Radio Show. He will produce special reports, as well as interviews with local community residents about their views on civics topics. "We want to hear from many voices, and that means going out to the people to get their views, their stories," said Marteh. "There are everyday heroes, we just don't always see them."
Listeners can also weigh in on topics using the show's Facebook page or call in during the show. "We really want open conversations and diverse viewpoints," said Wilson, as he prepared last week for the show. "We Liberians are strong enough to handle different opinions. Let's do it with respect, logic and a true understanding of the law."
###
About Child Steps International: Child Steps International (CSI) is a 501(c)(3) Nonprofit established in 2012 and located in Washington, D.C. Child Steps is also a registered non-governmental organization in the Republic of Liberia. CSI launched the LAW+YOU Civics Curriculum in pilot schools in Liberia in 2013. In May 2016, the LAW+YOU curriculum was launched as an interactive, low/no literacy community program. On July 7, the LAW+YOU Radio Show brought the civics curriculum to listeners across Liberia.
VIDEO: https://www.youtube.com/watch?v=R-VZpaEy3Ng
For more information, contact:
Tenneh Johnson Kemah, President & Founder
Child Steps International
USA: 1626 K Street NW, Washington, DC  20006
Liberia: 34 Camp Johnson Road, Monrovia, Liberia
media@childstepsinternational.org
www.childstepsinternational.org
(301) 257-1326
Source: Child Steps International
Share:
---
Categories: Non Profit, Radio Programs, Humanities
Tags: Africa, Aid, donate, educate, empower, Liberia, radio, world health
---