ChikJade Design Releases Signature Collection
Crossbody handbags are made from 10 oz. cotton canvas, 100 percent cotton and nickel metal hardware. Some have detachable and adjustable straps.
Press Release
-
updated: Mar 16, 2018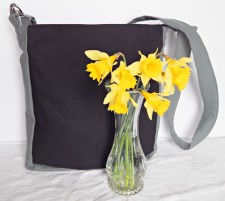 DAGSBORO, Del., March 16, 2018 (Newswire.com) - Designer Krisandra Slye from ChikJade Design is releasing the brand new Signature Collection, and each product will be individually made by the designer herself. The Signature Collection will be released on March 23, 2018.
ChikJade Design is known for helping women so that they can express the [woman] within.
Thus, for the first time, Krisandra has created an entire product line of her favorite handbags. The new Signature Collection is scheduled to go live on March 23, 2018.
The collection will be exclusively sold on the website ChikJade.com where the products are scheduled to sell out by the end of the season.
The handbags are designed to showcase self-expression with vibrant, jewel-toned colors that make women feel as though they were displaying their personality on their shoulders.
Several products come in fuchsia, lilac and Caribbean-sea blue to capitalize on today's trends.
The handbags are made from 10 oz. cotton canvas which means working women, career women and students will be able to carry it around with them from work to play without fear of it falling apart.
Each individual handbag has its own name. A few examples are:
Onyx
Amethyst
Pink Sapphire
Black Pearl
Turquoise
The Signature Collection handbags are priced at $135.
Krisandra is excited to welcome her fans to her new handmade product line collection they've been requesting.
CONTACT INFO
For more information about The Signature Collection or for an interview with Krisandra, please write to info@chikjade.com. Media high-res photos available upon request.
About ChikJade Design
Krisandra started designing handbags after she was faced with a very real problem. Stylish handbags tend to fall apart after constant use and the sturdy bags aren't as visually appealing. After many years of creating handbags by hand, Krisandra's products started gaining notoriety among the handbag industry.
Source: ChikJade Design
---
Categories: e-Commerce
Tags: Etsy Shop, Handbags, Handmade business, New collection launch, Small Business
---