Chicago Sun-Times Becomes the Newest Verified Digital Member of the Alliance for Audited Media (AAM)
Press Release
•
Jan 19, 2022
The distinction from AAM validates the newspaper's traffic sourcing and reporting policies and affirms the Sun-Times' commitment to transparency throughout their entire digital advertising operation.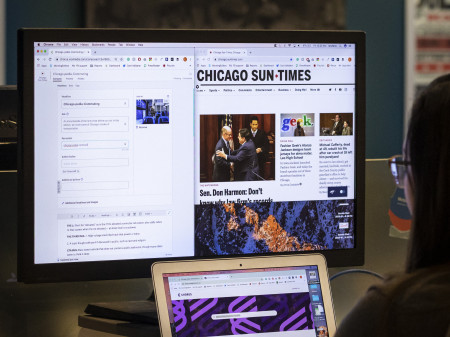 CHICAGO, January 19, 2022 (Newswire.com) - The Chicago Sun-Times is the newest verified digital member of the Alliance for Audited Media (AAM) after successfully completing AAM's Digital Publisher Audit Program last month.
Concluding an in-depth and ongoing Digital Publisher Audit directed by AAM that validates sources of website traffic, inspects business operations and evaluates traffic sourcing policies for publishers, AAM's verification affirms that the Sun-Times has demonstrated its commitment to transparency throughout their entire digital advertising operation.
"AAM serves as a traffic watchdog for media organizations—in the same way the Sun-Times keeps its finger on the pulse of local government and city agencies," shared Nykia Wright, CEO of the Chicago Sun-Times. "We are thrilled to have earned this recognition for the integrity of our operations."
The Sun-Times has made great strides in recent years to grow its digital audience through efforts that include site improvements, a vastly expanded e-mail newsletter portfolio and significant investment in data-driven and interactive online storytelling, Wright said. An accurate and trustworthy accounting of that website audience validated by AAM will allow the news organization to "extend the benefits of that growth to advertisers and other partners," Wright said.
Since the Digital Publisher Audit program maintains continuous oversight of website traffic and audience metrics for verified websites, advertisers can rely on AAM's ongoing oversight as the Sun-Times expands its advertising platforms. Plans for 2022 include new offerings across podcast products and enhanced digital opportunities, Wright said.
For more information about the Sun-Times, partnerships, subscriptions or sponsored content, please contact advertising@suntimes.com.
ABOUT THE SUN-TIMES
The Chicago Sun-Times is the hardest-working paper in America, covering the stories and issues that matter most to working Chicagoans with depth, integrity and grit. Winner of eight Pulitzer Prizes, the Sun-Times features hard-hitting investigative reporting, in-depth political coverage, insightful sports analysis, entertainment reviews and cultural commentary, both in print and online. Read more at suntimes.com.
ABOUT THE ALLIANCE FOR AUDITED MEDIA (AAM)
The Alliance for Audited Media powers transparency and collaboration between North America's leading media professionals. With more than 100 years of experience in print and digital media audits, AAM is the industry's recognized leader in cross-media verification with unparalleled expertise across all brand platforms including web, mobile, email and print. Today AAM offers an avenue for media buyers and sellers to connect, forge relationships and transact with trust by delivering authentic, credible data. To learn how AAM brings trust and transparency to today's media ecosystem, visit auditedmedia.com.
###
Source: The Chicago Sun-Times