Chicago Painting Contractor & Cleaning Service Owner, Andre Kazimierski, Awarded 2019 Regional 30 Under 40
Press Release
•
updated: Apr 14, 2019
Local Chicago Business Owner, Andre Kazimierski (of Sophia's Cleaning Service & 3rd Gen Painting and Remodeling), Receives 2019 Regional 30 Under 40 Award For Community Impact By The West Suburban Chamber of Commerce.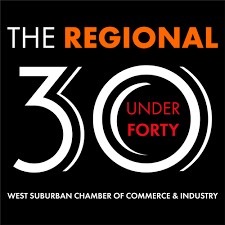 WESTERN SPRINGS, Ill., April 14, 2019 (Newswire.com) - 3rd Gen Painting and Remodeling announces that the West Suburban Chamber of Commerce has named Andre Kazimierski, as a recipient of the Regional 30 Under 40 award in 2019. This successful initiative identifies 30 individuals under the age of 40 who are making a significant impact on the region. These young, talented leaders will be recognized on May 16, 2019 at the Brookfield Zoo.
Born and raised in Brookfield, Illinois, and a graduate of Riverside-Brookfield High School, Andre went on to receive his Business degree at Depaul University in Chicago. He may be one of the youngest members of the 30 under 40 club but he hasn't forgotten his roots and the people that helped mold him into the entrepreneur he is today.
"For me, being a business owner is more than just providing a service or selling a product. It represents a unique opportunity to honor the past in Sophia's Cleaning and celebrate the future in 3rd Gen Painting. Sophia's Cleaning is my personal tribute to my late mother, Sophia, who started the company over 35 years ago, while 3rd Gen Painting and Remodeling is a cumulation of our team's vision for the future of the home service industry." -Andre Kazimierski of Sophia's Cleaning Service & 3rd Gen Painting and Remodeling
A decade in the making, 3rd Gen Painting is one of the fastest growing companies in the Midwest with locations in Western Springs, IL, and Madison, WI. Andre and co-owner, Matt Schmidt, have their eyes set on expanding their award-winning house painting company to the cities of Milwaukee, Oak Park, and Naperville, IL.
Andre's vision for Sophia's Cleaning is a little different. He hopes to one day grow the company into a self-sustaining nonprofit business that donates 100 percent of its profits to assisting families affected by Cancer.
Andre's mother and company founder, Sophia, was suddenly diagnosed with stage 4 Colon Cancer at the age of 53 and passed away one year later in 2012. "I remember how difficult it was to personally manage the household, family business, finances, and my career the year my mom was in chemotherapy," said Andre. "Simply providing free home cleaning services every two weeks for a family with a loved one fighting Cancer can really go a long way."
"As a regional Chamber of Commerce, our mission is to build and empower a prosperous community of thriving businesses who understand the value of collaboration," said Suzi Wirtz, IOM, President & CEO of the WSCCI. "This necessarily means celebrating a unique demographic who are making an impact on the communities in which they both live and work."
Today, whether Andre's crews are painting houses in Hinsdale, building decks in Madison, or cleaning homes in La Grange, he dedicates a portion of each completed home service project to Cancer research in his mother Sophia's name.
Source: 3rd Gen Painting and Remodeling
Related Media
Tags
Additional Links