Cheryl Nelson, Meteorologist and Network Lifestyle TV Host, Explains How to Prepare for Severe Weather
Press Release
•
updated: Oct 29, 2018
During Hurricane Season, Meteorologist Cheryl Nelson Shares An Important Message with Tips On TV Blog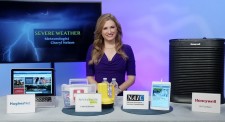 ATLANTA, October 29, 2018 (Newswire.com) - Hurricane Florence kicked off the season with a bang, and last year enormous storms like Hurricanes Harvey, Irma and Maria tore paths of death and destruction across the Caribbean and the U.S. Every day there is news coverage of record floods, earthquakes, crippling blizzards and tornadoes hitting unusual parts of the nation. That is why Tips On TV is fortunate to have network television meteorologist Cheryl Nelson to provide her top safety tips to help people prepare for the storms. Cheryl is also an instructor and Meteorologist for the FEMA National Disaster Preparedness Center. She shares her top safety tips and so everyone can learn why this meteorologist has dedicated her career to preparing people to survive extreme weather.
AN IMPORTANT PART OF BEING PREPARED
When storms strike, staying connected is really important. Storms can cause cable and fiber Internet outages. While that is just an inconvenience for many, Internet outages can be devastating to businesses. HughesNet Internet Continuity provides Internet access via satellite in the event of a cable or fiber outage. When the primary Internet connection goes down, the HughesNet system detects the outage and automatically switches over to a satellite Internet connection. When the primary connection is restored, the router automatically switches the connection back. With a subscription to HughesNet Internet Continuity, small and mid-size businesses can weather a storm without taking a costly hit to the bottom line. With only a one-time equipment charge and a monthly subscription fee, HughesNet Internet Continuity provides protection in the event of an internet outage. For more information, visit internetcontinuity.hughesnet.com
SOMETHING ANYONE CAN DO TO BE READY
For people who live in an area impacted by wildfires, the smoke can affect how they feel. One recommendation is the Honeywell True HEPA Air Purifiers, because they are so effective at capturing tiny airborne particles like smoke. Honeywell Air Purifiers are so trusted they have been doing this for over 25 years and they are the #1 Brand recommended by allergists. While smoke affects everyone, older adults, children and others with weakened immune systems can be most troubled by smoke. Honeywell HEPA Air Purifiers pull contaminated and dirty air into the unit, forcing it through a powerful filtration system and cleaning it up to 5 times an hour. Cost is under $200 for this model. For more information, visit www.honeywellpluggedin.com/air-purifiers.
ESSENTIAL SUPPLIES TO KEEP ON HAND IN PREPARATION FOR SEVERE WEATHER
Homes should always have extra batteries on hand. It is also important to keep important phone numbers written down on a laminated piece of paper. Have multiple copies of those numbers in areas of the home and car. One number people include on the list, is 1-800-RESPOND. It calls the people at ServiceMaster Restore. They are the go-to source for getting homes or businesses back to normal after a disaster strikes. Whether it is recovering from a flood or fire or remedying a mold problem Service Master Restore provides the guidance, expertise and personalized care needed to ensure life gets back to normal, quickly. In fact, according to a new survey from ServiceMaster Restore, nearly a third of Americans have experienced weather-related structural damage. Do not try and tackle the recovery process alone, ServiceMaster Restore is available 24/7/365 to help. Call ServiceMaster Restore at 1-800-RESPOND to get a free quote and to start getting life back in order. For more disaster preparedness and recovery tips, visit www.ServiceMasterRestore.com
THE NUMBER ONE THING TO PROTECT AGAINST STORMS DOWN THE ROAD
The number one thing that people do not think about until it is too late is insurance. Even though the amount of damage from hurricanes seems to get worse and worse every year, only about five million people have flood insurance. In the Carolinas, only about 335,000 homes in the two states were covered. Each year, floods cost the U.S. $82 billion dollars, making it the nation's most frequent and expensive natural disaster, so it is important to think about. If people do not have the proper insurance, rebuilding can take many years. One good resource is the National Association of Insurance Commissioners (NAIC). They provide a wealth of information on types of insurance and facts that will help them determine what insurance should be purchased. The NAIC has links to the state department of insurance offices to help people better understand their individual needs on their website insureuonline.org. Disaster victims may also see NAIC members on the ground after a disaster helping people get their claims filed quickly. It is important to get everything lined up before disaster strikes. That way victims can rebuild after the storm. Most people do not know, water damage from a home's plumbing or a leaky roof is typically covered by homeowner's insurance. Flood damage from ground-water or storm runoff is not. Wildfires can pose a devastating one-two punch to homeowners. The fire itself and then the floods and that can follow in their wake. A typical homeowners policy covers fire, but it does not cover the flood. All these things can be learned about at www.insureu.naic.org.
www.tipsontv.com
Contact: tipsontv@gmail.com
Source: Tips On TV
Related Media