Chemical-Free Vape Pens Available From SereneFarms.Ca
Serene Farms releases two new product lines - Hood Smoke and Culture Vape Pens. Both feature the highest quality blends and, unlike many vape pens on the market, do not contain polyethylene glycol.
Press Release
-
updated: Sep 12, 2019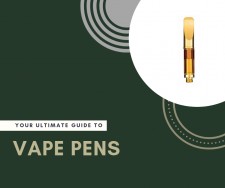 CUPERTINO, Calif., September 4, 2019 (Newswire.com) - ​Serene Farms now supplies two new product lines designed for discerning cannabis users who value the purest high-quality distillates and the convenience and simplicity of vape pens. The Hood Smoke range comes with refill cartridges, while Culture pens are super-sleek and disposable. All provide exceptional, PG-free blends to meet the individual tastes and high expectations of experienced cannabis users.
​​​​​​​In the Hood Smoke range, Relief pens offer a soothing, C02-extracted distillate 96% CBD blend, while Passion is a C02-extracted distillate 96% THC blend. Bliss pens are one of the few vaporizers on the market that provide a shatter blend. 
The Culture range features ceramic atomizers to deliver a clean draw. The built-in lithium battery and ceramic coil provide approximately 150 pulls. These pens are designed to be discrete, sleek and aroma-free. Two sizes are available. At the 150 mg size, customers can choose 150 mg of premium Indica or Sativa BHO, with 150 mg of premium CBD. Larger size pens in the Culture range feature an over-sized reservoir of 400 mg of premium Sativa BHO.  
With these new products, Serene Farms recognizes the rapid rise in the popularity of vaping and its clear practical advantages. Vaping offers a discreet, convenient way to consume cannabis for recreational medicinal use.​
​However, there are growing concerns related to the use of cutting agents, such as polypropylene glycol (PG), in vaping solutions. Inhalation of these chemicals may have negative effects on those who suffer from allergies, such as asthma. Moreover, the formation of formaldehyde by some vaporizers has been detected. 
For this reason, all Serene Farms vape pens contain only all-natural cannabis plant oil with no added chemical agents.
Source: Serene Farms Publications
Share:
---
Categories: Local News
Tags: Guide, vape oils, Vape Pens
---