Cheech & Chong Are Sparking Up Massachusetts With Two Exciting New Partnerships
Press Release
•
Oct 26, 2023
Their New Cannabis Dispensaries & Non-Alcoholic Hemp THC Seltzers are infusing fun for cannabis consumers throughout the Bay State while promoting safe, responsible access.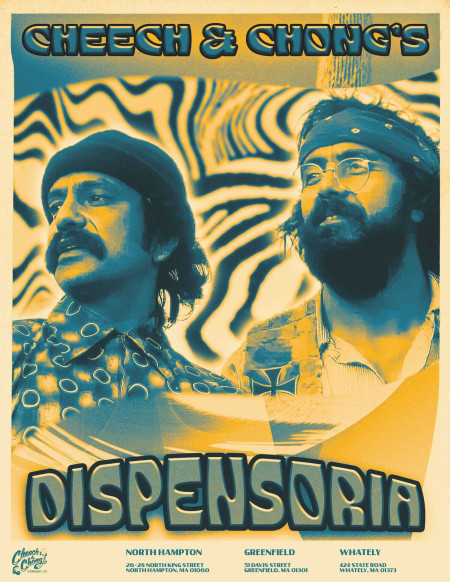 BOSTON, October 26, 2023 (Newswire.com) - Iconic duo Cheech & ChongTM are headed to Massachusetts for two groundbreaking partnerships that will leave Massachusetts buzzing. The team, widely known for their contribution to cannabis through pop-culture classics like UP IN SMOKE, are on a mission to bring the joy and fun back to cannabis while ensuring safe, responsible access.
Cheech & Chong Join Forces with Toroverde for the debut of Cheech & Chong's DispensoriasTM
Cheech & Chong have always been about more than just cannabis; they're about celebrating the vibrant culture and sense of community that surrounds it. That's why they've partnered with dispensary operator Toroverde to launch Cheech & Chong's Dispensorias, a line of cannabis dispensaries in Massachusetts.
Cheech & Chong's Dispensorias are not just places to purchase cannabis; they're a destination for laughter, connection, and unforgettable experiences. Cheech Marin, one half of the legendary duo, put it best, saying, "Legalization is great, but the industry lost some of the fun along the way. We wanted to bring back the fun and excitement and laughter with the Dispensorias. We wanted to do it different than anyone else, almost like another 'cannabis revolution.' And we figured, what better place to start a revolution than Massachusetts?"
With three Dispensorias opening in November, including locations in Whately, Greenfield, and Northampton, residents across Massachusetts will now have a place to purchase premium cannabis at affordable prices, while enjoying the unique world of Cheech & Chong.
Jonathan Gonzalez, Market Manager, Toroverde, said, "We've taken all the best parts of a dispensary: safe, legal access to premium cannabis, expert budtenders, and top-notch customer service, and tossed all the boring, corporate parts. When you apply that 'Cheech & Chong' feel to a dispensary, all of a sudden, everyone is just having a lot more fun."
Jonathan Black, CEO of Cheech and Chong's Global Holding Company, stated, "We've worked hard to ensure that our Dispensorias are designed to break down barriers, foster a sense of community, and give every cannabis consumer, regardless of experience level, access to a safe, responsible, and reputable cannabis experience, boosted by the connection of two legends in the space."
Cheech & Chong's High and Dry Hemp-Derived THC Seltzers Now Available in Stores Across Boston
Cheech & Chong's takeover in Massachusetts doesn't stop at Dispensorias. In partnership with Atlantic Beverage Distributors, the duo is bringing their High & DryTM Hemp THC seltzers to liquor stores throughout the greater Boston area.
Tommy Chong explains, "We're all about makin' it simple for folks to get what they need, whether you're in a dispensary or in the liquor store. It's all about takin' care of the community."
These seltzers are the newest way for Cheech & Chong to achieve their mission of providing responsible access to the plant for all adults. With zero alcohol, zero calories, and 5 MGs of hemp-derived THC, they're perfect for anyone looking to enjoy a "buzz" without the hangover.
Brandon Harshbarger, President, Cheech and Chong's Global Holding Company, revealed, "This initial roll-out in Boston has been incredible. And that all comes down to the team at Atlantic Beverage. They are the 'Kings of Craft Beer in Boston' for a reason. Looking at their history in the adult beverage space, there was no better partner. We're proud to have them on board the Cheech & Chong team."
To celebrate, Cheech & Chong are bringing the party to the Bay State. They'll be toasting to the new beverages at the Liquor Junction in Reading, Massachusetts, on Nov. 10.
Join the beverage revolution and meet the iconic duo at 1 General Way, Reading, MA 01867, from 5-7 p.m. It's the "Boston T-HC party" you won't want to miss!
But that's not all! Cheech & Chong will also be throwing a Dispensoria Grand Opening Party on Nov. 11. Join the guys in person at 424 State Rd, Whately, MA 01373 from 2-6 p.m. with a Cheech & Chong Meet and Greet from 3-5 p.m.
While there will be no cannabis consumption on site, fans 21 years of age and older are encouraged to come down and enjoy the experience to see the Dispensoria difference for themselves. This is not just a party; it's a chance to hang out with Cheech and Tommy and christen the Dispensorias in true Cheech & Chong style.
For all the details about the "Boston T-HC Party at Liquor Junction" and Cheech & Chong's High and Dry Seltzers, visit HERE.
To join us on Nov. 11 at the Dispensoria Grand Opening Party in Whately, visit HERE.
About Cheech and Chong's Global Holding Company
Cheech and Chong's Global Holding Company is a leading cannabis lifestyle brand built on over 50 years of advocacy, entertainment, and education. Its mission is to provide high-quality, safe, and reliable cannabis products to consumers while promoting the benefits and positive impact of the plant. At Cheech and Chong's Global Holding Company, cannabis is more than just a plant - it is a lifestyle that brings people together and promotes well-being. The company's history and legacy are rooted in humor and activism, and it continues to honor those values today.
The marks Cheech & Chong, Dispensoria, and High & Dry are trademarks of, or licensed to, Cheech and Chong's Global Holding Company.
Media Contact
Brooke Mangum
CMO - Cheech and Chong's Global Holding Company
Brooke@cheechandchong.com
Source: Cheech and Chong's Global Holding Company
Related Media