Cheech and Chong Light Up New Mexico With Dreamz Dispensary
Press Release
•
Sep 14, 2023
Together the iconic duo and New Mexico's premier dispensary will spark a new era in cannabis in the Cactus State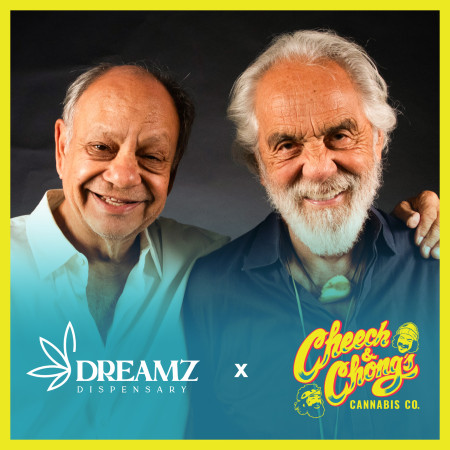 ALBUQUERQUE, N.M., September 14, 2023 (Newswire.com) - Igniting a joint venture that promises to blaze new trails in cannabis, Cheech and Chong's Cannabis Co. proudly announces their partnership with Dreamz Dispensary, an industry leader in New Mexico.
One half of the legendary duo, Tommy Chong, shares, "Our partnership with Dreamz is all about making folks' lives better through cannabis. New Mexico deserves the best, and that's what we're here to offer."
Cheech Marin, adds, "Together with Dreamz Dispensary, we're weaving our story into the fabric of New Mexico. This partnership is about embracing and celebrating local culture."
Cheech and Chong achieved legendary status as a brand that embodies the spirit of cannabis culture, with their commitment to delivering premium, high-quality products earning them a devoted following worldwide.
Dreamz Dispensary, deeply rooted in the fabric of New Mexico, has garnered respect for its top-tier cannabis products and customer-centered approach. Their understanding of the local market dynamics, coupled with their strong distribution network, makes them the ideal partner for Cheech and Chong's Cannabis Co. Dreamz Dispensary shares the values of quality, innovation, and responsible consumption that are at the core of Cheech and Chong's Cannabis Co.
"While some celebrity brands just stick their label on products and call it a day, we're all about true partnerships," said Brooke Mangum, CMO of Cheech and Chong's Cannabis Co. "Our goal is simple: empower outstanding cultivators and retailers with the digital and social credibility they need to stand out against competitors and succeed."
John Fisher, CEO of Dreamz Dispensary, expressed, "We consider it both an honor and a privilege to represent the most iconic name in cannabis culture. Our Dreamz team is absolutely thrilled to introduce the Cheech and Chong brand in New Mexico."
With community enrichment at its core, Cheech and Chong's Cannabis Co. and Dreamz Dispensary are dedicated to providing the local community with premium cannabis experiences that resonate and uplift.
To find Cheech and Chong's Cannabis in a dispensary near you in New Mexico, visit dreamzcannabis.com
About Cheech and Chong's Cannabis Co.
Cheech and Chong are renowned names in the cannabis industry, recognized for their pioneering contributions and advocacy for responsible cannabis use. With a rich history and deep-rooted knowledge of cannabis culture, Cheech and Chong's Cannabis Co. is committed to providing high-quality cannabis products and promoting wellness for all.
About Dreamz Dispensary
Dreamz Dispensary is part of a vertically integrated cannabis operation in New Mexico. With over 12 dispensaries, cultivation, extraction, manufacturing, wholesale, and distribution throughout the state, Dreamz Dispensary is competing to be one of the top Cannabis operators in the region. Education, Innovation, and Compassion drive the team at Dreamz Dispensary, ensuring that patients and customers (Dreamerz) receive industry-leading care.
Source: Cheech and Chong Cannabis Co.