Charterprime Group Announces 2017 Trading Statistics
Press Release
-
updated: Feb 7, 2018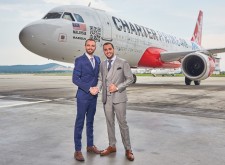 SYDNEY, AUSTRALIA, February 6, 2018 (Newswire.com) - Charterprime Group, an international financial services and brokerage group based out of Australia, today announced its trading statistics for 2017.
2017 was a bumper year for Charterprime with retail FX trading volume increase of 68.4% on executed orders with a successful fill rate of 98.9 percent. Charterprime also benefited from a number of key institutional partnerships and initiatives which delivered strong growth across its key markets including Southeast Asia, China and Europe.
Important milestones included a May 2017 event where a custom airbus A320-200 with Charterprime's logo and branding was launched at the hub of AirAsia Berhad - one of the largest carriers in the region. This custom livery launch signified the stable long-term collaboration between Tune Group, the parent company of AirAsia, and Charterprime in an official brokering capacity for all financial spot and futures products, namely foreign exchange (FX) as well as commodities such as oil, both to reduce costs and to hedge against market volatility.
In October 2017, a brand-new equities division of Charterprime Group – CharterMarkets was launched in Queensland. CharterMarkets, led by industry veterans Rob Harrison and Greg Bax, services strong local and overseas demand for Australian equities, corporate advisory and Initial Public Offerings, both domestically and internationally.
In November 2017, Charterprime's Reach Out program, a CSR initiative launched in Southeast Asia, commenced as a way for the business to pay forward its success by supporting local communities in the regions where it operates.
Simon Stephen and Mathew Tate, the managing partners of Charterprime commented:
"Charterprime Group is proud of what we achieved in 2017, but of course our focus is on the future and delivering strong growth across all areas of the business in 2018. We will achieve this by continuing to always put the needs of our clients and partners first and constantly working to enhance our product and service offering for their benefit.
"Charterprime is expanding across all of our key markets in Southeast Asia, China and Europe and will support that growth with a series of planned initiatives to be announced throughout the course of the year."
*This figure refers only to retail trading volumes and excludes institutional trading volume.​ It does not constitute a full representation of total trading volume.
About Charterprime
Charterprime is an international financial group specialising in the brokerage of financial products and foreign exchange. The company's key objective is to maintain its award-winning Over-The-Counter derivatives offering and continue its expansion throughout the Asia-Pacific region. Charterprime will focus on upholding its reputation as a transparent and trustworthy provider as it grows its financial services offering and global reach.
Source: Charterprime
Share:
---
Categories: Finance, Business Finance, Derivatives
Tags: Asia-Pacific, Brokerage, Chartermarkets, Charterprime, Equities, Forex, FX, International Financial Group, OTC Derivatives Offerings, SEA, Trading
---