CharmHealth, MedicalMine Inc.'s Cloud-Based Platform, Launches Tools and Promotions to Help Healthcare Providers Manage COVID-19
CharmHealth launches new promotions for telehealth subscribers, and various screening tools and resources to aid providers support patients through the COVID-19 pandemic.
Press Release
-
updated: Mar 18, 2020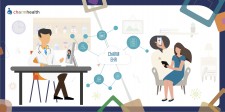 PLEASANTON, Calif., March 18, 2020 (Newswire.com) - MedicalMine Inc.'s CharmHealth suite of products is a leading comprehensive solution including EHR, PM, and RCM for independent medical practices.
The World Health Organization on Wednesday declared the rapidly spreading coronavirus outbreak, associated with the transmission of the novel coronavirus (SARS-CoV-2) a pandemic. The emergency bill authorizes the U.S. Secretary of Health and Human Services to waive Medicare restrictions on providing telehealth services to seniors during this public health emergency.
In order to assist healthcare providers in their management of crucial and timely care to patients and those affected by COVID-19, CharmHealth announces free telehealth service for a month, with unlimited usage, for new subscribers. This should help providers treat patients remotely and securely while containing the spread of the infection at hospitals, clinics and medical offices.
Additional features and templates rolled out to the entire network of providers on CharmHealth include:
Screening Questionnaire to help healthcare providers identify new cases of coronavirus to assist in querying patients about their recent travel history to help with the determination of isolation measures to contain potential infections;
New diagnosis codes integrated to templates for updated chart notes;
Lab and imaging templates related to COVID-19, for ordering by physicians and other authorized healthcare providers, to ensure interoperability;
Resources to assist with new related CDC coding guidelines and links to various resources for providers and patient education.
"As the world is grappling with the rising toll of the COVID-19 pandemic, healthcare workers are at the front-line managing this crisis. By launching these CDC-recommended resources at their finger-tips, we hope that we can mitigate the difficulties faced by healthcare providers at this time of emergency. Our telehealth platform customized to the COVID-19 pandemic is designed to enable remote consults in a secure and accessible format while limiting exposure and aiding containment," said Pramila Srinivasan, Ph.D., CEO, MedicalMine Inc.
CharmHealth is created by a California-based company, MedicalMine Inc., which is a leading cloud-based health IT platform for independent practices. As the most affordable healthcare management solution in the country, CharmHealth's mission is to serve independent practices by empowering them with clinical and financial technology tools that improve provider experience and patient outcomes.
CharmHealth's integrated cloud-based product suite is built to provide superior patient care, reduce delivery costs and provide exceptional access to patients' medical data. CharmHealth includes Electronic Health Records, Practice Management, Patient Portal for Patient Engagement, Revenue Cycle Management, telehealth solutions and an Instant Messaging solution for Providers, MDMessageTM, all with complementary mobile solutions.
For more information on CharmHealth, visit https://www.charmhealth.com. To get breaking news on CharmHealth, follow the company on Twitter at https://www.twitter.com/charmhealth and Facebook at https://www.facebook.com/charmhealth.
Source: MedicalMine Inc.
Share:
---
Categories: Healthcare Technology
Tags: COVID Diagnosis Codes, COVID Resources, COVID19 Screening Questionnaire, TeleHealth for COVID
---