ChARM Health Integrates With Fullscript to Enable Medical Practitioners to Dispense Professional-Grade Supplements Without Carrying Inventory
ChARM Health, a leading EHR/PM solution for Independent Medical Practices and the flagship product of MedicalMine Inc., announces integration with a leading dispensary of supplements to enable practices to conveniently dispense supplements to patients without carrying inventory.
Press Release
-
updated: Aug 3, 2018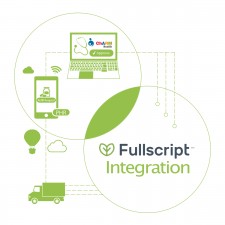 PLEASANTON, Calif., August 3, 2018 (Newswire.com) - MedicalMine Inc., the maker of ChARM Health suite of products ChARM EHR.PM.RCM for the independent medical practice, announces full integration with a leading online dispensary of professional-grade supplements, Fullscript.
"Medical practitioners who complement drug prescriptions with supplements would like to be able to prescribe nutritional supplements from the EHR and to be able to make high-quality supplements conveniently available to their patients, using their own virtual store integrated with Fullscript. They would also like to accomplish all this without carrying inventory or dealing with shipment procedures. This complete 360-degree integration allows a physician to order a supplement directly from the patient chart and the patients are able to pay for, receive and renew supplements through the PHR, directly from Fullscript, from the convenience of their homes. This feature also improves patient care and compliance by recording and tracking supplement use alongside prescriptions," said Pramila Srinivasan, CEO, MedicalMine Inc. 
Those interested in taking advantage of this feature can directly access the Fullscript tab on the Supplements section and search and enter details of the supplements. The order is transmitted directly to Fullscript for fulfillment. The patient is notified on the PHR to view the new supplement order from the physician. Using a familiar shopping-cart-based ordering system, the patients can complete payment and shipping order entry and get the supplements delivered to their doorsteps.
For more information on ChARM Health, visit https://www.charmhealth.com. To get breaking news on ChARM, follow the company on Twitter at https://www.twitter.com/charmhealth and on Facebook at https://www.facebook.com/charmhealth.
Source: MedicalMine Inc.
---
Categories: Healthcare and Medical Informatics
Tags: Dispense Supplements, Fullscript integration, Online Dispensary, Order Supplements, Virtual Pharmacy Store
---