Chameleon Chair® Expands Distribution in Agreement With Atlas Commercial Products and EventStable.com
Press Release
•
updated: Jul 9, 2020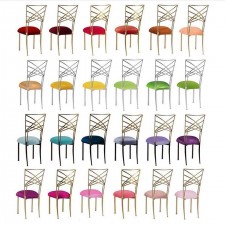 LOS ANGELES, July 9, 2020 (Newswire.com) - ​​​​​​​​​​​​​​Chameleon Chairs LLC, the designer, manufacturer and distributor of its proprietary line of chairs, barstools, chair covers and accessories, is announcing a new sales distribution partnership with Los Angeles-based Atlas Commercial Products and its affiliate EventStable.com.
Aside from Chameleon itself, Atlas and EventStable.com will be the only third-party distributor authorized to market and sell Chameleon Chair Collection products. Both parties are excited to collaborate to propel the growth of their businesses.
In the past, Chameleon has been heavily invested and committed to serving the party and event rental business and has partnered with eight of the leading rental companies in the U.S., serving 28 major U.S. metropolitan areas under exclusive rental distribution agreements. These rental partnerships will all remain in place. In addition, Chameleon will continue to rent its cushion caps and chair covers, serving the entire U.S. Over the years, Chameleon has also sold over $8 million in chairs to other rental companies and third-party end-users, including a wide variety of event venues, restaurants, hotels and private clubs and even some residential use. Under this new agreement, Chameleon's business will continue in the future as in the past, except for the welcome addition of the Atlas/EventStable.com distribution channel.
Atlas/EventStable Managing Partner Will Murphy commented, "We are thrilled about partnering with Chameleon Chair Collection. Having their highly coveted lineup in our catalog will help us expand our reach even further into hospitality and event rental markets. I know it will also be quite exciting to our existing customers, who have long been asking for the kind of jaw-dropping seating options that Chameleon does better than anyone."
Jerry Smolar, President and CEO of Chameleon Chairs, added, "We are pleased to partner with Atlas/EventStable, a leading importer and distributor of chairs, tables, furniture and related equipment in the U.S and Canada. We look forward to working with a company that has built its reputation on offering quality products backed by excellent service, which mirrors Chameleon's core values. In addition, with this strengthened distribution network in place, we plan to introduce additional Chameleon chair designs."
About Atlas and EventStable.com:
The Atlas Commercial Products mission is to be the best possible resource for its customers looking to build their businesses with affordable, quality furniture and equipment. Based out of Los Angeles, California, Atlas supplies chairs, tables, and other commercial equipment for special events and hospitality to wholesale and retail markets throughout the United States and Canada.
In business since 2004, Atlas has continued to build on the strength of its manufacturing partnerships and quickly grow to become a leading supplier of event furniture to online retailers, party rental companies and event venues.
In early 2018, Atlas doubled down on its commitment to serving the special event market, performing a strategic merger with EventStable.com. Evolving from a full-service party rental company to a leading online seller, EventStable knows a few things about customer experience and how to best serve its event customers as well as its reseller partners. To view the company's product offerings, please visit www.eventstable.com.
Atlas Commercial Products
16200 Commerce Way
Cerritos, CA 90703
Tel.: (310) 402-9010
E-mail: will@atlaschairs.com
Media Contact: Will Murphy or Glenn Boghosian
About Chameleon Chair Collection:
Chameleon Chairs LLC was formed in January 2005 and concurrently acquired an existing inventory and patent pending for the Chameleon Chair system. The opportunity to provide over 1,500 chairs for the 2005 Academy Awards® Governors Ball was the Company's initial foray into the chair business. The Company does business as the "Chameleon Chair® Collection" and designs, manufactures, sells and rents its proprietary products.
Chameleon seating, with its unique and elegant silhouette, sexy tapered legs and attention to detail, is easily recognized and coveted by today's foremost designers, event planners and venues. Chameleon chairs always make a statement, featuring a plush cushion, ergonomic design and luxurious presentation.
Chameleon has filed for utility and design patents covering its new products and rental method, including its transportation (dolly) system. Utility patents have been issued to Chameleon in the U.S. and in China. These patents protect the structure of Chameleon's iconic and novel Chameleon Chair, as well as the way in which Chameleon Chairs stack on top of each other for ease of use and storage and transportation. In addition, 13 design patents have been issued in the U.S.
Chameleon has also received federal trademark registration for the names "Chameleon Chair" and "Chameleon Chair Collection" in the U.S. and in China. "Chameleon Chair" is also registered in Mexico and the European Union.
To view the Company's products, visit www.chameleonchair.com or follow on Instagram.
Chameleon Chairs LLC
12823 S. Figueroa St.
Los Angeles, CA 9006
Tel.: (310) 787-9200
E-mail: info@chameleonchair.com
Media Contact: Rhonda Couchigian
Rayce PR – (562) 338-5101
Source: Chameleon Chair Collection