Challenged-Teens Challenge Stereotypes With Holiday Fundraising Campaign to Help Disabled Families
Press Release
•
updated: Nov 16, 2017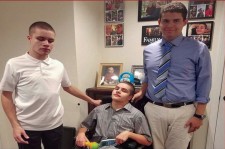 BOSTON, November 11, 2017 (Newswire.com) - September marked a huge accomplishment for Esteban Barriga, his first day at Mass Bay Community College. A true milestone for any young person, it was even more so for Esteban because from a very early age his parents were told he would be lucky to graduate high school. But neither Esteban, nor his friends — good friends Andy and Dan Wiener are the type to give up on their goals. And it just so happens these three share two other important traits — a commitment to helping others, and parents who are relentless in supporting their children.
Each with their own intrinsic challenges, Esteban, Dan and Andy have defied the odds for their entire lives. Esteban was diagnosed with severe Autism at the age of three. Like many children with Autism, he struggled in social situations, had difficulty being in crowded places and could not make friends. Recognizing a deficit of resources to support her family, and others like them, Esteban's mother Rueda started Autism Geniuses of the World. Through this nonprofit organization, she and a team of volunteers have helped hundreds of families with Autistic children to adapt, and to engage with their communities. And perhaps more importantly, through public education campaigns and events, she has taught the community how to engage with and accept these special families.
Andy and Dan are two remarkable teens on the inside who happen to face unique physical challenges. Dan is autistic and legally blind and Andy, who is also blind, is confined to a wheelchair and has Cerebral Palsy. Like Esteban, they are blessed with a dad who would do anything to help his children. For 17 years he, along with his 23- year-old son Eddie, has raised these fantastic boys on his own, quitting his job to ensure they are able to live fulfilling, happy and rewarding lives.
These teens owe much of their success to their parents who have been steadfast advocates, as well as the teachers who have mentored them, classmates who have befriended them, and the community at-large which has accepted and supported them. And to say the community has gone to the moon and back for these boys can hardly be considered hyperbole. In 2015, Esteban's entire senior class rallied behind him, helping him to produce a video-invitation inviting Ellen DeGeneres to his prom; when she did not show, they stood behind their friend and ensured he still attended and had a great time. This culmination of a high school career — a right of passage for all — had special meaning for a child who could not speak until he was six. And in 2016, Andy and Dan's family received the surprise of a lifetime when the Fallon Family Charitable Foundation surprised them with the keys to a fully accessible house and an army of volunteers.
It is no surprise, but it certainly is touching, that these three boys have turned out the way they have. Their parents describe them as "compassionate givers." Recently the three friends hatched a plan with the support of their families to spread a little joy of their own this holiday season by launching a fundraising campaign to help needy families who have children with disabilities in the New England Area. With the proceeds, the team will buy all the toys online and create a distribution plan to ensure the right toys get to the right families. Their goal is to raise $10,000. Asked about their motivation, Esteban conveyed the sentiment of his friends; "Mom, me and my friends — Dan and Andy — want to help people for Christmas." Barry, the dad of Andy, Dan and Eddie could not be more proud: "They are doing this not because we have to, but because they can, and because they realize they have been fortunate in so many ways — to be born in a great community with a great family, and to be around people everyday who truly care about them and want us to succeed. We are so glad we can help others and makes me realize I have raised great kids with a big heart. What more could a dad ask for?"
To learn more, and help by volunteering, making a donation or becoming a business sponsor, visit Autism Geniuses of The World or contact Maribel Rueda at 978 908-8900.
https://www.gofundme.com/facebook-com-AutismGeniuses
Source: Autism Geniuses Of The World
Related Media
Related Files
Additional Links