CEPEX Canada Advances Special Ops Forces (SOF) Approach to Effective Project Execution
CEPEX Canada introduced to industry the innovative concept called Holistic Upfront Project Planning (HUPP©) — a game-changing paradigm that helps find the most optimal project execution strategy and project cost, and at the same time fosters operational excellence (OE) through the SOF team approach
Press Release
-
updated: May 9, 2017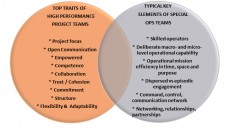 Calgary, CANADA, May 9, 2017 (Newswire.com) - The current low-for-longer oil price scenario, which might continue for the foreseeable future, is forcing the oil companies to explore innovative ways to reduce costs on their new projects. The Center for Excellence in Project Execution (CEPEX Canada) believes that old ways of doing things are no longer par. An overhaul is required in the way the companies carry out planning for their new projects and the way the project teams are prepped for executing the projects; CEPEX has been introducing radical, innovative concepts toward this end.
CEPEX Canada introduced to the industry the innovative concept called Holistic Upfront Project Planning (HUPP©) – a game-changing paradigm that helps find most optimal project execution strategy and project cost and at the same time fosters operational excellence (OE). This concept is applicable to many industries outside of traditional Oil & Gas, and can be adapted to fit diverse types of projects.
HIGH-PERFORMANCE PROJECT TEAMS
"To ensure true fidelity of HUPP© implementation, it is important that an organization that wishes to implement HUPP© should build and maintain high-performance project teams that are aligned with this paradigm – this is fundamental. By the way, building top-performing project teams to implement HUPP© automatically contributes toward achieving enhanced OE in the organization since high-performance teams are a part of OE endeavour in an organization anyways," said Parth Mukherjee, Expert Principal, CEPEX Canada.
BUILDING HIGH-PERFORMANCE PROJECT TEAMS FOR 21ST CENTURY
For building high-performance project teams that can meet the challenges of low-for-longer oil price scenario and complex dynamics of project execution in 21st century, CEPEX Canada introduced to the industry the innovative and radical concept called "SOF (Special Ops Forces) Concept."
What the SOF concept seeks to do is to find the sweet spot between the top traits typically found in high-performance project teams and typical key elements of special ops forces.
"A high-performance project team should be viewed as a group of people with specific roles and complementary talents and skills, aligned with and committed to a common purpose, who consistently show high levels of collaboration and innovation, that produce superior results," said Anirudh Kumar, Principal, CEPEX.
| TOP TRAITS OF HIGH-PERFORMANCE PROJECT TEAMS | TYPICAL KEY ELEMENTS OF SPECIAL  OPS TEAMS |
| --- | --- |
| Project focus | Skilled operators |
| Open Communication | Deliberate macro- and micro-level operational capability |
| Empowered | Operational mission efficiency in time, space and purpose |
| Competence | Dispersed vs episodic engagement |
| Collaboration | Command, control, communication network |
| Trust / Cohesion | Networking, relationships,  partnerships |
| Commitment | |
| Structure | |
| Flexibility & Adaptability | |
MAINTAINING HIGH-PERFORMANCE PROJECT TEAMS
After having formed high-performance project teams as per the SOF concept, it is very important that the said teams are maintained in a proper manner to keep them at high level of operational readiness and effectiveness, added Kumar.
To maintain high-performance teams, it is important to understand the key characteristics of the team members as indicated in the diagram above. Obviously, leadership of high-performance teams assumes critical importance because without proper leadership, the operation and maintenance of the team can get severely affected, points out Mukherjee.
However, emphasizes Kumar, what is also important to note is that to maintain effectiveness of a high-performance team, besides knowing the characteristics of a high-performance project team, the project team leader should also make sure that the team does NOT suffer from the following mentality, which can severely affect the effectiveness of the team:
Personal ego (stemming from illusion of being the best)
Discouragement of critical thinking
Negative perception of outsider inputs
Discounting diverging opinions and views
SUMMARY
Building high-performance project teams that can meet the challenges of project development and implementation in the low-for-longer oil and gas price scenario has become a must. More importantly, innovative concepts must be implemented in forming such high-performance project teams. Once formed, the said teams would need proper maintenance to capitalize on the wins.
Organizations that invest time and resources in this direction would stand to benefit in a big way — not only will their projects be executed in the best possible manner, but also the organization's operational excellence will remain in strong alignment with the strategic goals.
CEPEX Canada helps in building high-performance project teams based on SOF concept. CEPEX also assists in implementing HUPP© for projects and/or project portfolios of a company.
Source: CEPEX (Center for Excellence in Project Execution)
---
Categories: Project and Program Management, Consulting and Professional Services, Energy
Tags: Innovation, Operational Excellence, Project & Program Management, Project Management, Transformational Leadeship
---