CEO of Thrive Natural Care Makes Case for Business Beyond Sustainability
Press Release
•
updated: Feb 16, 2017
Insights from the first regenerative supply chain in the personal care industry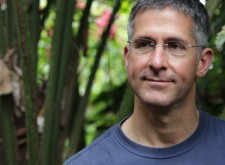 Washington Township, NJ, February 16, 2017 (Newswire.com) - ​​​Alex McIntosh, CEO of Thrive Natural Care, delivered the opening keynote at The Future of Sustainability 2017, hosted by the New York Society of Cosmetic Chemists. As creator of the first regenerative supply chain in the personal care industry, McIntosh shared how he and his team at Thrive manifested their audacious vision as the core driver of the business model and why it makes clear business sense for the industry to do the same.
Thrive Natural Care partners with farmers in Costa Rica to supply the ingredients which make their men's grooming products distinctly restorative, from the supplier to the consumer. In addition to better skin health from the unique plant oils, the manufacturing process itself improves outcomes for the environment, the farmers and the other human beings involved in the process.
McIntosh detailed their impact after three years in business, noting that Thrive's regenerative farming practices have improved soil composition and ecological biodiversity, increased plant growth, and enhanced the quality of oils used in their products. Farmer's incomes also rose 40% in that time.
McIntosh was invited to speak along with other pioneers in the sustainability space, such as renowned chemist, Paul Anastas, and Rachel Kaufman, Senior Manager, Global Sustainability and Marketing at Johnson & Johnson.
He stated in his address, "Becoming more efficient at doing the wrong thing is not equivalent to doing the right thing. We need to aim higher. It is operationally possible, more fun, and can be financially accretive to do so. The personal care product industry can take the lead in this regard."
With a supply chain that generates value beyond the bottom line, every player involved is empowered to participate in amplifying that impact. In this way, McIntosh and Thrive endeavor to forge a scalable path for consumers, business partners, and the broader industry to align sustainable values with personal choice, and to shift business beyond sustainability.
About: Thrive Natural Care is headquartered in San Francisco, CA and works in tandem with a passionate team in Costa Rica. Founded in 2013, Thrive conducted extensive R&D in the Costa Rican ecosystem in order to appropriately source premium ingredients before bringing their truly healthy and natural product to market in 2014. At an affordable price, they currently sell online at www.thrivecare.co and Amazon, in addition to 60+ Whole Foods Markets from Seattle to California. Thrive's products are certified Premium Body Care products at Whole Foods Markets, their highest level of certification for efficacy, safety and sustainability. The unique skin care line, inspiring mission, and regenerative business model have been featured in Esquire, Progressive Grocer, and Travel & Leisure Magazine.
Media Contact
​Karen Coral
Director of Digital Marketing
415-928-9521
karen@thrivenaturalcare.com
Source: Thrive Natural Care
Related Media