Century Old Alberta Prairie Farmhouse Redefined
Press Release
•
updated: Sep 15, 2017
The Bergquist House - Escape Rooms & Tavern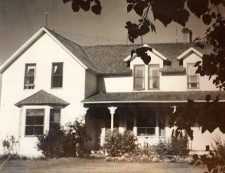 MOSSLEIGH, Canada, September 15, 2017 (Newswire.com) - New Beginnings:
A Ribbon Cutting Ceremony for the newly redefined Alberta Prairie Farmhouse will be held Thursday, September 14th with Member of Parliament, Mr. Martin Shields along with Doreen Cowan, granddaughter of the original Bergquist family.
My sister Donna and I have so many happy memories of our grandparents' house. As young girls, we spent a lot of time on the farm. It's always been a place of love and laughter. I'm so glad the house hasn't been demolished like so many others, and that our family can still visit it and enjoy its new purpose.

Doreen Cowan, Bergquist Granddaughter
History:
Originally built in 1906 and expanded in 1912, the Bergquist Family home was once a prominent part of the Southern Alberta farming community in early 1900s and for many decades. Originally located just two miles north of what is present day Carseland. (25 minutes NE of High River). It was home to 6 children growing up on 2,000 acres of farmland. Not bad for two immigrants from Sweden and Norway, enticed by the Dominion Lands Act.
After the third generation family descendants sold off the farm in the early 1980s, this 2,600-sq. ft. historical farmhouse underwent several moves, including that of Speargrass Golf & Country Club. It was moved to a permanent location at Aspen Crossing, in Mossleigh, Alberta back in 2006. The house was set on a new foundation then sat until January of 2017, when a final decision was made about how best to utilize the house while preserving its architectural details. Connecting its past along with local history while giving the Bergquist house new life and purpose. Creating a Tavern and Escape Rooms seemed like a perfect fit.
Redefined:
Unlike its counterparts, where most Escape Rooms are set up in warehouses; The Bergquist House has been given new life, so that laughter can once again echo through the house. Most of the interior structural design has been lovingly restored, including the highly polished original staircase, painted walls and plate rails.
The upstairs now contains three different escape rooms. All of which are loosely tied to local, rail and Canadian history. You'll have to be able to weed fact from fiction if you're going to make your way out in the ultimate escape room experience. Relationships are built and strengthened, while others are challenged, thanks to the team building activity. This brain busting experience forces you to think outside the box. Discovering clues while unraveling the puzzle, all to beat the clock to gain your great escape!
In the lower half of the house, there's a Tavern serving up local food where possible in pub style fashion all within a historical ambiance combined with today's modern world.
Media Contact: Donna Biggar - GM
Aspen Crossing
Phone 403-534-2129
Fax 403-534-2126
Email: info@aspencrossing.com
Source: Alberta Prairie Farmhouse
Related Media
Tags