Centricity Fosters Innovation and Interoperability Among Blockchain & AgTech Pioneers
The produce industry is digitally transforming in front of our eyes with open-source frameworks to enable interoperability among legacy systems and multiple blockchains -- driving better decisions on the farm, forward across the supply chain.
Press Release
-
updated: Oct 17, 2018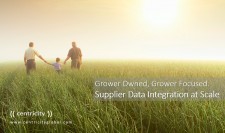 WENATCHEE, Wash., October 17, 2018 (Newswire.com) - Centricity, a grower-owned technology company, announces additional blockchain integration with its Enterprise Trellis Framework offering. These integrations include connectors to the leading food traceability and compliance platform, blockchain development tools, payment networks and sovereign identity protocols.
What started over 22 months ago as a collaboration to exchange produce audit data has evolved to an innovative knowledge exchange and privacy management suite. The Trellis Framework handles the difficult task of synchronizing information between partners with diverse systems and formats while providing an excellent on-ramp (and off-ramp) for the blockchain.
The open-source project is housed at Purdue University's Open Ag Technology and Systems (OATS) center and maintained by industry participants. With enterprise support and rapid integration plugins, Trellis will save significant systems integration time and cost making it the "go-to" option for those companies looking to integrate their supply chains with or without the blockchain.
Centricity has been collaborating with industry leaders, from the largest brands to the smaller boutique operators, to ensure that all stakeholder interests and practices are supported. "We're connecting more than supply chains - we're connecting people along with values and smart data that originate from the farm," stated Drew Zabrocki, CEO of Centricity. "There is tremendous value associated with the 'art of farming' and it doesn't all fit on a spreadsheet or in a blockchain - nor would we want it to. Consumers don't want a myriad of data; they want to know the brands that can be trusted and are aligned with their values.
"Working with suppliers and buyers across the globe, we've found that everyone has one thing in common: 'connections.' We all have them and they're costly to establish and maintain. Gone are the days of proprietary peer-to-peer integrations. Now we're attempting to scale data interoperability through services that connect machines and people quickly and cost-effectively," explained Zabrocki. "Interoperability is often accomplished using technology that has been around for a while - APIs. APIs make it easy for computers to talk to each other, so people don't have to do manual re-work; which is why we were happy to work with IBM and their IBM Food Trust Offering by leveraging their APIs and creating 'plug-ins' for others to do the same." 
Through a library of IBM Food Trust APIs, hardware, software and technology, companies can write transaction data directly onto the blockchain network to provide valuable insights. IBM is working with services and technology providers to contribute important supply chain, provenance, testing and sensor data to the blockchain ecosystem.
IBM Food Trust, a blockchain solution that brings greater efficiency and transparency to the food ecosystem, now enables technology companies to write transaction data directly onto the blockchain network through a library of APIs, hardware and software to provide valuable insights. IBM is working with services and technology providers including Centricity to contribute important supply chain, provenance, testing and sensor data to the blockchain ecosystem.
"Working with Centricity as part of the IBM Food Trust ecosystem has enabled users to unlock new value from their data on the blockchain," said Brigid McDermott, vice president, IBM Food Trust. "With the insights clients are able to generate based on these new connections Centricity enables, we see the ability to affect transformative change across the food industry."
In a recent pilot with Dole and IBM, Centricity connected audit and certification data with legacy systems and related it to disparate data sources to show how the time it took for the certificate to be issued by the certification body and uploaded onto the blockchain was less than a minute without any human intervention.
To achieve this, Centricity retrieved and synchronized the certificate information, applied digital signatures, then analyzed the data to provide comparative analytics before delivering them to IBM Food Trust via APIs. The analytics included information not typically part of certifications alone, such as heat maps demonstrating alignment with values, supply-demand over compliance timelines and related agrochemical, residue and market access statistics. The proof of concept took only days to deliver with a production-ready timeline of weeks. 
"Interoperability and automation are table stakes if you're looking to unlock the value of your data and protect it across global supply chains," explains Aaron Ault, technology officer at Centricity. "That's why we're committed to interoperability from the farm forward - including compatibility with on-farm spray record and compliance tools, sorting and grading equipment, robotics and artificial intelligence as well as other blockchain platforms and protocols."
"The ability to directly connect audit data to the blockchain has great potential to simplify on-farm and front-office reporting and data capture for the produce industry," said Natalie Dyenson, vice president, food safety & quality, Dole. "We see tremendous value for the produce industry in leveraging the Trellis framework to put compliance data on the blockchain and allow for sharing across suppliers and partners in an efficient and cost-effective way." 
In addition to the Hyperledger integration, Centricity recently collaborated on a Global Seafood Traceability Demonstration with a payment requests blockchain network, and Logic20/20, an analytics and digital transformation company. The proof of concept was presented in Hong Kong earlier this year at a meeting among industry leaders. It showcased the power of automatically synchronizing transaction data at each step along the supply chain to enable real-time payment settlement and immutable provenance records. Certain data was stored off the chain and available only to authorized parties, but all data was digitally signed and notarized on the chain for buyers to validate payments were made to the producers, documents were genuine, location data was authentic and values were upheld.
"As part of the dialogue with industry, stakeholders made it clear that they required options for a variety of reasons. We liked the open-source nature of Hyperledger and were looking for a certain level of openness among other integration partners," said Zabrocki.
There is no shortage of technology partners in the Pacific Northwest – home to Microsoft, Amazon and Expedia and a technology hub for AgTech innovators like Compu-Tech, Innit, iFood Decision Sciences, The Weather Company and the IBM Watson Decision Platform for Agriculture team, and many others. Just a short drive over the Cascade mountains to Eastern Washington and people will find a community that is world famous for its fruit, vegetables and wine, and also boasts the lowest cost of power in the country with a publicly owned fiber optic infrastructure that rivals any other in the world.
"Our region is buzzing with blockchain-related tech, including some of the largest mining and development operations in the world," explained Zabrocki. One of the early local innovators is Dragonchain. Dragonchain was originally developed at Disney's Seattle office between 2015 and 2016 under the name "Disney Private Blockchain Platform." The project was open-sourced by Disney in October 2016 and is now maintained by the Dragonchain Foundation.
"When we created Dragonchain, we wanted to build an easy-to-use hybrid blockchain platform that has all the benefits of immutable proof on the public blockchain in a flexible business-focused package," said Joe Roets, founder and CEO of Dragonchain. "With Dragonchain, you retain complete control of your data. Sensitive business logic and smart contract functionality are kept proprietary."
Centricity is also collaborating with Dragonchain on Dragon Factor identity service to provide users with GDPR-compliant decentralized authentication, permitting them to have autonomy over their data and control over who may access it. "This is especially important given the sensitivity of trade and compliance data in the food sector," said Filip Hantson, vice president strategic business development at Dragonchain. "Third parties may set conditional criteria for blockchain-based outcomes. For example, only permitting transactions over a certain threshold to be conducted by verified customers."
In addition to business-ready technologies such as Hyperledger, the IBM Food Trust, Request Network and Dragonchain, there is a global ecosystem of companies Centricity is collaborating with. Two worth mentioning are LifeID, an open-source sovereign identity solution built on Rchain, and Rchain, a fully decentralized communications and storage utility that is open-source and maintains state by utilizing proof of stake.
"What works for one company may not work for another. There are jobs to be done today. People, process and systems evolve along a journey. We must remain mindful of this and integrate with current systems and work within current limits," explains Zabrocki. "This is why Centricity is investing in research and development, integration and interoperability, not just with leading brands but with emerging technologies that will shape the future of how we choose to interact, trust and exchange knowledge with one another."
Centricity will be announcing additional integrations and partnerships in the weeks to come. In the meantime, join the conversation. Visit www.trellis.one  or www.centricityglobal.com.
Source: (( centricity ))
Share:
---
Categories: Food and Beverage Manufacturing
Tags: Agriculture, AgTech, Blockchain, Centricity, Dole, IBM Food Trust, PMA, Traceability, Transparency
---