Central Pointé Church Spreads the Word With Cloud-Based LED Sign
Press Release
•
updated: Jul 18, 2017
Central Pointé Church of Christ recently upgraded their large freeway sign to feature a full color LED display from Entech Signs to reach out to the busy highway nearby.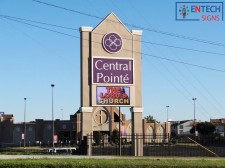 Dallas, TX, July 18, 2017 (Newswire.com) - In September 2000, thirty members held their first Bible Class in the chapel of the Cedar Crest Place Funeral Home where the idea of a new church was born, Central Pointé Church of Christ. Later, the settled in their first facility in Duncanville, TX. Five years later, the congregation grew to well over 800 people and served the spiritual needs of members throughout Dallas and neighboring counties. Incredibly, they purchased an old movie theater which was renovated to the beautiful church that stands today on Westmoreland Rd in Dallas, TX. Entech Displays was called upon to retrofit their existing sign with a full color LED message display to further spread the Word to busy travelers on Hwy 20.
The sign was a retrofit of the existing large ID cabinet. It was converted to be a separate ID cabinet, so a full color LED sign could be installed below. The LED sign was manufactured by the California-based company, Vantage LED. It features a 7 yr comprehensive parts warranty and 7 years of on-site parts replacement service.
"The customer is doing a great job keeping their slides short and simple which is ideal to see from the highway."

Roger Tien, Project Manager
Roger Tien, Lead Digital Signage Technician with Entech, stated, "The customer is doing a great job keeping their slides short and simple which is ideal to see from the highway."
Central Pointé Church is programming their LED display with cloud-based software called SM Infinity. One major feature of the software is free to access for one year to professional designers standing by online. The church simply submits their ideas for a message via an online form, and the designers create custom content specifically for the church and their LED sign size.
Roger continued, "I do know they're very pleased with the software and the ability to use the 'request graphics feature' to get great content on the sign; most of the slides they use are actually generated by SM Infinity designers."
The upgrade is an investment in the growth of the church and the community. The large sign is sure to reach the many people driving by. LED message signs not only show signs of growth, they also spur growth by attracting attention with powerful and dynamic messages.
Central Pointé Church of Christ is located at 7440 S. Westmoreland Rd in Dallas, TX near Highway 20.
ABOUT ENTECH SIGNS
ENTECH SIGNS is a communications equipment company specializing in visual solutions. Their mission is to provide reliable and efficient communication systems with experienced technical support for their customers. Their goal is to provide customers with more than they expect when receiving their products and services. ENTECH SIGNS was founded in 1984 in the Dallas/Fort Worth, Texas area and services LED and LCD sign customers nationwide.
CONTACT INFORMATION
Entech Signs
Steve Teas
972-641-0390
steve@entechsigns.com
Source: Entech Displays
Related Media