Central Park Bike Rental Offers Safety Tips for Biking in NYC
Press Release
-
updated: May 30, 2018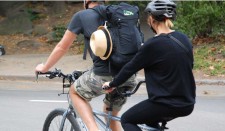 NEW YORK, May 30, 2018 (Newswire.com) - The importance of wearing safety helmets, bicycle-appropriate clothing and following traffic rules are just some of the topics covered in the recently released Bike Rental Central Park safety guide.
The guide was inspired by statistics from the National Highway Transportation Safety Association (NHTSA). By law, the NHTSA points out that bicycles are vehicles, and those operators have the same rights and responsibilities as those of motor vehicles.
The fatality numbers, however, have been rising consistently. In 2015, there were 818 bicycle fatalities; in 2016, that number rose to 840. The final numbers for 2017 are not yet in, but it's expected that they'll also rise. In addition, there are approximately 40,000-45,000 non-fatal injuries per year, with the average age hovering in the early to mid-40s.
Distracted driving is often thought of only in terms of motor vehicles, but it applies to bicyclists -- so phones and earbuds should be left at home. As for "road rage," the guide says it's simple: "Keep your cool," pointing out that it is not necessary -- or wise -- to get into heated discussions or to use inappropriate gestures to anyone, but especially strangers.
"Bike riding can be a challenge anywhere -- but especially for those in urban areas, such as NYC," said Blair Nicole of centralparkbikerental.nyc. "Designated areas for pedestrians and cyclists like the 11-mile Hudson River Greenway make the city fun and easy to get around. Always follow the rules of the road, obey traffic signs, use hand signals and ride with the traffic. Remember to stay on the road and off the sidewalk."
What About Theft?
The guide points out that one must first decide if he or she wants complete protection or something relatively simple and inexpensive that will possibly distract thieves.
"Unfortunately, locks can't prevent 100 percent of all thefts," said Blair Nicole "but the idea is to make it as difficult as possible for them."
ABOUT BIKE RENTAL CENTRAL PARK
Bike Rental Central Park has a fleet of over 500 bikes of all sizes and styles and the company offers an all-inclusive rental package that provides a map, helmet, chain lock and even a basket at no extra charge.
There are also specific tour packages including The Central Park Bike Tour, Brooklyn Bike Tour, New York At Night Bike Tour and Harlem Bike Tour.
Source: Bike Rental Central Park
Share:
---
Categories: Travel Guides
Tags: bike rental central park, biking nyc, biking safety tips, central park bicycles, central park bike rental, new york sightseeing
---