Celebrity Event and Floral Designer Eddie Zaratsian Lifestyle and Design and Floral Wholesaler Blooms By The Box Announce the Release of "Do-It-Yourself" Floral Packs
Announcement: Celebrity Floral Designer Partners with DIY Floral Wholesaler for "Do-It-Yourself" Floral Packs based on Youtube Tutorials. Blooms by the Box and Eddie Zaratsian Lifestyle and Design have released this new line to inspire and provide floral supplies to creatives, floral enthusiasts and DIY Brides and Grooms.
Press Release
-
updated: May 19, 2017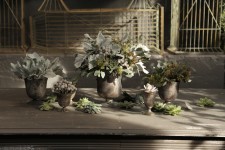 Los Angeles, California, May 19, 2017 (Newswire.com) - May 18, 2017 (Newswire) - Blooms by the Box and Eddie Zaratsian Lifestyle and Design are proud to announce the release of a new line of curated "Do-It-Yourself" floral packs. These stunning floral selections are inspired by Eddie's Youtube channel of floral creativity DIY tutorials and prove that one-of-a-kind arrangements can fit within any budget. Eddie believes that "flowers are a feast for the soul, and everyone deserves a seat at the table," and Blooms by the Box couldn't agree more!
Customers will be truly inspired by Zaratisan's elegant aesthetic and style as they watch him create gorgeous arrangements and bouquets in the accompanying videos. Zaratsian's YouTube channel has over 40 videos of floral design DIY tutorials and releases a new one every week.
"At BloomsByTheBox.com, delivering premium-quality flowers is only half the job. We know that doing your own flowers can be a little daunting. So we put a lot of time into making that process easy, developing ready-to-go packs, creating easy online tutorials, and offering second-to-none customer service to help with selection and purchasing. Working with Eddie Zaratsian Lifestyle and Design to curate this new collection of Blooms DIY Wedding Packs has been a fabulous experience. We know our customers will be truly inspired by Eddie's elegant aesthetic and style as they watch him create gorgeous arrangements and bouquets in the accompanying videos. They really bring Blooms' "Budget Friendly Beauty" to life!" said Joan Wyndrum, Vice President of Blooms by the Box.
"I am thrilled to be partnering with Blooms By The Box to offer these floral packs to our viewers. Embracing and creating floral art is something that should be shared with the world. A design tip I would share is to let nature be just that - natural. When designing your floral arrangements, be open to letting the art piece become its own personality," said Eddie Zaratsian, Owner, and Visionary of Eddie Zaratsian Lifestyle and Design.

The passion that both the Blooms team and Zaratsian share for inspiring creatives is evident within these floral and green combinations. The Eddie Zaratsian-inspired DIY flower packs take the guesswork out of shopping for wholesale flowers and make it easy to assemble exactly what you need for every occasion.
About Bloomsbythebox.com
BloomsByTheBox.com is an online wholesale flower superstore that specializes in providing members of the public with beautiful do-it-yourself flowers to save money on a tight budget! Blooms By The Box is 100% dedicated to quality flowers and customer service. Wholesale flowers are now available directly to the public using BloomsByTheBox.com with no more buyer restrictions or long lead times. Order your flowers up to 45 days in advance! Our flowers are fresh-cut, premium, florist-quality blooms that can be arranged however you wish. We offer a large range of flowers and greens to match any season or theme. If you can't find what you are looking for, we will do our best to get it for you. If it's available anywhere, we can find it!
About Eddie Zaratsian
An artist and visionary, Eddie Zaratsian creates.
Eddie Zaratsian is fluent in the many languages of design and uses his expertise and natural talent to bring ideas and stories to life through one-of-a-kind creations and environments. Zaratsian is also a creative consultant and collaborates on brand partnerships. When he's not filming his Youtube tutorial videos, Zaratsian's services include event design, brand partnerships, speaking engagements, and consulting. On his website, seasonal floral subscriptions and his coffee table book can be purchased. His extensive experience, signature pieces, and unique work drive attention to his YouTube channel and floral production company.
Source: Blooms By The Box and Eddie Zaratsian Lifestyle and Design
Share:
---
Categories: Weddings, Lifestyles, Conventions, Trade Shows, Meetings and Events, Do-It-Yourself (DIY)
Tags: bloomsbythebox.com, Do It Yourself Flowers, Eddie Zaratsian, Eddie Zaratsian Lifestyle and Design, Floral packs, Flower Tutorials, Flowers, How To Flower Arrangements, Tutorial, Wedding flowers
---