Celebrities and Experts Play Fantasy Football for Charity
Press Release
•
Aug 13, 2015
In a league where more than just bragging rights are on the line, celebrities and fantasy sports industry experts are teaming up to compete for charity.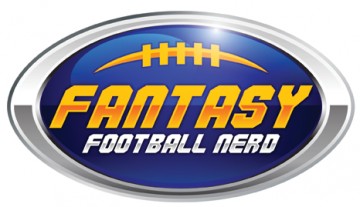 Oshkosh, WI, August 13, 2015 (Newswire.com) - The FantasyFootballNerd.com Experts League for Charity enters its fifth year with representatives from all across the fantasy sports world competing for the coveted league trophy and a financial donation to the winner's charity. Past charitable contributions have been made in the winners' names to The V Foundation for Cancer Research, Susan G Komen for the Cure, Fort Sanders Foundation, and the Children's Aid Society of New York.
"I love the fact that we are all competing for a prize that is greater than ourselves," said Joe Dyken, CEO of TayTech, LLC and Chief Nerd at FantasyFootballNerd.com. "These are the people that my members are listening to on the radio, watching on television, and reading about online. It is a veritable who's who of the fantasy sports industry."
"I love the fact that we are all competing for a prize that is greater than ourselves."

Joe Dyken, CEO
According to the Fantasy Sports Trade Association, nearly 57 million people will play fantasy sports in 2015 - an increase of more than 15 million people from last year. "Imagine if just 1 percent of those people could add a charitable component to their leagues," said Dyken. "That has the ability to significantly and positively impact lives."
The 2015 FantasyFootballNerd.com Experts League for Charity participants include:
Ryan Fowler, FOX Sports
Ryan is the Senior Fantasy Writer for FOX Sports. He is playing for Autism Speaks which is the nation's largest autism advocacy organization sponsoring autism research and conducting awareness and outreach activities aimed at families, governments, and the public.
Lisa Ann, Sirius XM Radio
Once known as a fantasy girl, she now lives for fantasy sports. Lisa Ann is the host of the Sirius XM Fantasy Sports Radio show "Lisa Ann Does Fantasy" Monday nights 11pm ET and weekly on Mad Dog Sports Radio morning show The Morning Men. As one of the most recognizable names in the adult film industry and star of the movie Nailin Palin, Lisa Ann retired from the Adult Industry in 2014 after winning the Sirius XM Celebrity Fantasy Football League Trophy. Lisa Ann is playing for Blessings in a Backpack whose goal is to provide food on the weekends for elementary school children across America who might otherwise go hungry.
Ty Dillon, NASCAR
Ty Dillon drives the No. 3 Bass Pro Shops/WESCO/Yuengling Light Lager Chevy for Richard Childress Racing. He spends his much of his free time outdoors – mountain biking, hunting, fishing or hiking. Ty is an avid sports fan, rooting for the Carolina Panthers, Atlanta Braves and Charlotte Hornets. He's also in several fantasy leagues, including one with his brother Austin, and other members of Richard Childress Racing. Ty will be playing for the Childress Institute for Pediatric Trauma whose goal is to help save the lives of injured children throughout the U.S. and all over the world.
Cindy Margolis, Actress & Model
Cindy is a true American success story. Before YouTube, Facebook, and Twitter existed, Cindy virtually invented Internet PR and was voted the most downloaded woman in the world by the Guinness Book of Records. She has spun that into a successful Hollywood career in the TV and Film industry. Her most recent film was this summer's smash hit Sharknado 3. Cindy is playing for RESOLVE: The National Infertility Association whose goal is to promote reproductive health and to ensure equal access to all family building options for men and women experiencing infertility or other reproductive disorders.
Gene Wang, Washington Post
Gene is a sports reporter for the Washington Post. He is playing for the Hero Dogs which is a great group of folks that raises and trains service dogs and places them free of charge with our nation's Veterans to improve quality of life and restore independence.
Justin Sablich, New York Times
Justin is the Senior Sports Web Editor at the New York Times. He is playing for the ASPCA. The American Society for the Prevention of Cruelty to Animals is a non-profit organization dedicated to preventing cruelty towards animals. They work to rescue animals from abuse, pass humane laws and share resources with shelters nationwide.
Dalton Del Don, Yahoo
Dalton is a fantasy sports writer for Yahoo. He is playing for St. Jude Children's Research Hospital which is the world's foremost pediatric treatment and research facility focused on children. They are recognized globally for their pioneering work in finding cures and saving children with pediatric cancer.
Steve Schwarz, FFToday.com
Steve is a contributor to FFToday.com and the 2013 and 2014 FFN Experts Champion. He is playing for The V Foundation for Cancer Research, formed by ESPN and Jim Valvano in 1993. The goal is to help accelerate the process of cancer research. As Jimmy V said, "Don't give up...don't ever give up!"
Justin Tasch, New York Daily News
Justin is a sports reporter for the New York Daily News. He is playing for the Alzheimer's Association whose mission is to eliminate Alzheimer's disease through the advancement of research; to provide and enhance care and support for all affected; and to reduce the risk of dementia through the promotion of brain health.
Michael Cardano, RotoExperts
Mike is an On-Air personality for the Fantasy Sports Network (FNTSY) covering Major League Baseball and the National Football League. He is playing for the American Cancer Society. For more than 100 years, the American Cancer Society has worked relentlessly to save lives and create a world with less cancer and more birthdays.
Melissa Jacobs, TheFootballGirl.com
Melissa is the Founder and Managing Editor of TheFootballGirl.com. She is playing for the National Coalition Against Domestic Violence whose mission is to work for major societal changes necessary to eliminate both personal and societal violence against all women and children.
Joe Dyken, Fantasy Football Nerd
Joe is the founder of FantasyFootballNerd.com and a lifelong Packers fan. He is playing for Backpacks for Kids which provides students in need with a backpack filled with back-to-school supplies. In Joe's community, more than 1,000 school children are in families unable to afford back-to-school supplies. It's a small investment in a lot of little futures.
The league will be powered by FOXSports.com and is scheduled to conduct its draft on Wednesday, August 26, 2015. Visit http://www.fantasyfootballnerd.com for more information.
Additional Links