Celebrate National Vodka Day With Nemiroff Vodka, Ukraine's #1 Selling Vodka
Press Release
•
updated: Oct 4, 2017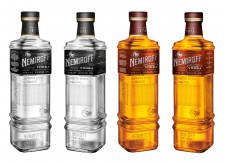 GARDEN CITY, N.Y., October 4, 2017 (Newswire.com) - National Vodka Day Alert! It is time to raise a glass to one of the world's most popular spirits — Vodka. National Vodka Day is today, October 4 and Nemiroff Vodka, Ukraine's best-selling vodka, is now available in the U.S. just in time for a cocktail.
Nemiroff Vodka is made in Central Ukraine, known for its 1,000 lakes and clear sparkling water. Nemiroff Vodka is made with natural local ingredients including local wheat, purified water and goes through a rigorous 11 stage filtration process. Nemiroff Honey Pepper Vodka is made with honey from bees raised on the Nemiroff property and a mixture of different chili pepper varieties which give the vodka its unique flavor.
Think you know everything about vodka? Well, think again. Below are some interesting facts about this popular spirit that will surely impress any vodka novice:
A teaspoon of vodka helps keep your flowers fresher for longer.
Vodka is lighter than water. 1 liter of water weighs 1,000 grams, while 1 liter of vodka weighs 953 grams. Vodka instead of water at the gym anyone?
Vodka is ideal for preventing poison ivy. Better pack a bottle of vodka for this weekend's hike!
Vodka added to pie crust recipes in addition to ice water, creates a flakier crust.
The vodka in penne alla vodka helps release flavor from the tomato and helps to emulsify the sauce, according to Rachael Ray it also leads to marriage proposals.
Ready for some inspiring cocktail ideas?
Pepper Collins
1 oz Nemiroff Honey Pepper Vodka
½ oz Pineapple syrup
2/3 oz Fresh Lemon Juice
Prosecco
Fill shaker with ice. Add Nemiroff Honey Pepper, lemon juice and pineapple juice into a separate mixing cup. Shake with ice for 10 seconds. Strain into chilled champagne flue with prosecco.
KYIV Mule
2 oz Nemiroff Honey Pepper Vodka
½ oz Fresh Lime Juice
1/3 oz Simple Syrup
Ginger Ale
Fill a chilled copper glass with ice. Add ingredients into copper glass. Mix using swizzle stick. Top with ginger ale and mix again with swizzle stick. Cover with crushed ice and serve with a straw. Garnish with lime.
Classic Martini
2 1/2 oz Nemiroff Vodka
1/2 oz dry vermouth
Green Olive for garnish
Cracked Ice
In a mixing glass or cocktail shaker filled with ice, combine vodka and vermouth. Stir well, about 20 seconds, then strain into martini glass. Garnish with an olive and serve.
Media Contact:
Laura Baddish
lbaddish@thebaddishgroup.com
Source: Nemiroff Vodka
Related Media