Cedar Builds AI-Powered Tools to Improve Healthcare Financial Experience for Patients Across the United States in Collaboration With Google Cloud
Press Release
•
Aug 2, 2023
Collaboration Will Accelerate Development of Large Language Models Within the Cedar Suite to Increase Transparency and Access Within Healthcare Billing Process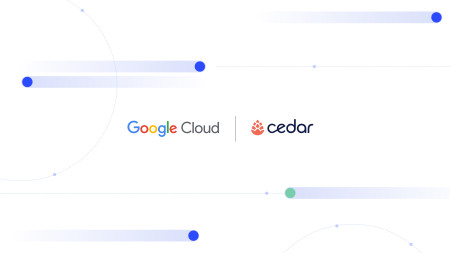 NEW YORK, August 2, 2023 (Newswire.com) - Cedar, an enterprise financial engagement platform that improves the end-to-end journey for consumers, announced it is using Google Cloud's generative AI tools, including Vertex AI, Generative AI App Builder and others to build solutions that will assist patients in understanding and resolving their healthcare bills.
As a growing number of patients are struggling to pay for healthcare, due to both increasing economic burdens and poor user experience, generative AI, including large language models (LLMs), presents an opportunity to address crucial financial pain points for patients, providers and payers. These new generative AI tools, which build on Cedar's existing expertise in machine learning, will be able to coach patients and bring further clarity to financial workflows, from pre-visit check-ins and estimates to post-visit bill resolution.
"Paying a medical bill is confusing at best, and a financial burden at worst. That's why our mission — to empower us all to easily and affordably pursue the care we need — has always been supported by a focus on simple experiences, powered by data," said Kinshuk Mishra, head of engineering at Cedar. "We're excited to continue our machine learning work in partnership with Google Cloud, using LLMs and AI to drive toward our mission of making healthcare more accessible — especially given Google's approach to AI safety, which is necessary to ensure that the tools we develop are accurate, reliable and improve the patient financial experience."
By leveraging Google Cloud's enterprise AI and machine learning solutions, including Vertex AI, Generative AI App Builder, Document AI and Contact Center AI, Cedar will be able to accelerate its development of LLM applications within its Cedar Suite. This includes educating and guiding patients by surfacing responses to questions about their financial responsibilities, and facilitating streamlined and personalized communication between providers, payers and patients.
"When someone needs care, accessing and understanding information on cost should not serve as an added barrier. Google Cloud provides the tools and technology to safely and securely streamline information to consumers, providing the transparency they need, when it matters most," said Amy Waldron, global director of Healthcare Strategy and Solutions, Google Cloud. "Leveraging generative AI capabilities enables organizations like Cedar to transform the healthcare journey, removing burdens and adding new levels of value and experiences for patients, providers and payers."
A winner of the Forbes "Cloud 100" for two consecutive years, Cedar is constantly innovating and investing in new technology to make healthcare more affordable and accessible through its consumer-friendly platform that's powered by data science, smart product design and personalization. To learn more, visit www.cedar.com.
About Cedar
Cedar is committed to improving the healthcare financial experience for all. With an innovative platform that connects providers and payers, Cedar empowers healthcare consumers with an optimized journey — all powered by data science and interactive design. For Cedar clients, this leads to increased payments, more efficient operations and greater consumer loyalty. To learn more about why leading U.S. healthcare organizations trust Cedar to manage the end-to-end consumer experience from pre-registration to post-visit billing, visit www.cedar.com and join us on LinkedIn, Twitter, Facebook and YouTube.
Source: Cedar