CDI Engineering Solutions Expands Presence in Lake Charles, LA, to Enhance Client Support and Services
Press Release
•
Sep 25, 2023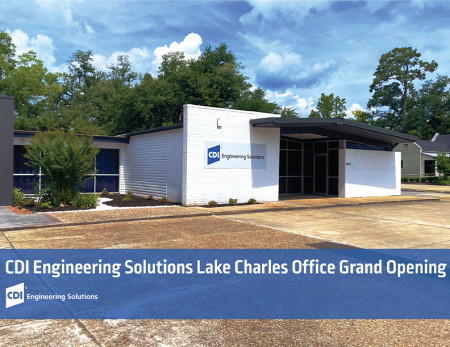 LAKE CHARLES, La., September 25, 2023 (Newswire.com) - CDI Engineering Solutions, a leading engineering, procurement, and construction management firm focused on serving the energy and chemicals industries, is thrilled to announce the grand opening of its new, larger office in the Lake Charles area. This expansion reflects the company's commitment to better serve and support its clients in the region and marks an exciting milestone in its continued growth.
The new office, located at 1633 Beglis Parkway, has increased workspace to accommodate CDI's growing team of engineering, design, and project management professionals. This strategic move further strengthens the company's local presence and meets the rising demand for capital project solutions in Lake Charles and surrounding areas.
"With this expanded facility, CDI Engineering Solutions is better positioned to provide unmatched engineering expertise and support to our valued clients in Lake Charles. We are proud to invest in this community and look forward to working closely with local industries to deliver first-class and fit-for-purpose engineering solutions," said Matt Rouse, P.E., Vice President of Louisiana Operations of CDI Engineering Solutions.
The ribbon-cutting ceremony for the new office will take place on September 28, 2023, and will be attended by distinguished guests, including local officials, business partners, and community members. The event will serve as a celebration of CDI's continued commitment to the Lake Charles region and its dedication to building long-term client partnerships.
At CDI Engineering Solutions, clients can anticipate innovative engineering solutions tailored to their specific needs across industries such as oil and gas, chemical, petrochemical, and refining. The company's team of skilled engineers and technical professionals is well-equipped to tackle complex projects and deliver excellence in every endeavor.
"We believe that this expansion will not only bolster our ability to support our existing clients but also open up new opportunities for collaboration with local businesses in the industry to help grow the community residing here," added Matt. "We are excited about the possibilities this move brings."
For more information about CDI Engineering Solutions, its services, and the ribbon-cutting ceremony, please visit www.cdiengineeringsolutions.com.
Source: CDI Engineering Solutions