CD One Price Cleaners Storefront Coming to Oak Lawn, IL, in Summer 2023
Press Release
•
May 17, 2023
This will be the third CD One Price Cleaners to open in 2023 and the 39th location in the Chicagoland area.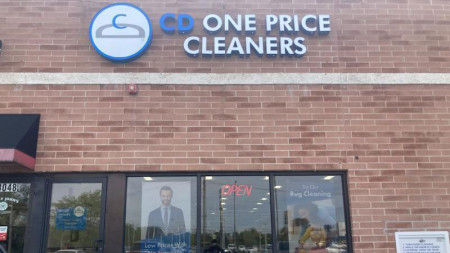 OAK LAWN, Ill., May 17, 2023 (Newswire.com) - CD One Price Cleaners has announced the opening of a new store in the summer of 2023, located at 6326 W 95th St. in the southwest suburb of Oak Lawn, Illinois.
This will be the third CD One Price Cleaners to open in 2023 and the 39th location in the Chicagoland area.
Chicago's leading dry cleaning and laundry chain recently opened its newest location at 18046 S. Halsted St. in Homewood, Illinois, and is set to open another location in Aurora this summer. The organization already announced plans to open a total of 10 new locations in both the urban and suburban markets throughout Chicagoland, bringing the total number of storefronts to at least 45 across Illinois.
The new store will be owned by Shailesh Patel, owner of four other successful CD One Price Cleaners locations. According to Patel, "As multi-store owners of CD One, we've been thrilled with our franchise ownership experience. Our customers love the value proposition of one-price dry cleaning paired with the fast turnaround we provide. I've been a multi-unit franchise operator of many other brands, but I can certainly say that I've been particularly pleased with my experience with CD One Price Cleaners, and I'm excited to bring value dry cleaning in Oak Lawn and the surrounding area."
The organization's VP of Franchise Development Tom Ryan said, "We're looking forward to making our services more convenient to those in Oak Lawn, Chicago Ridge and other neighboring communities to shorten the drive time to other nearby CD One Price Cleaner stores. With the new Homewood location and this new Oak Lawn location, we'll have significantly strengthened our footprint in the South Suburbs with experienced franchise operators."
About CD One Price Cleaners:
The first CD One Price Cleaners store in the Chicago area opened in the suburb of Lincolnwood in 2001. Since that time, the company has also opened locations in Minneapolis, St. Louis, and Northwest Indiana, expanding its value-driven, one-price model through its network of franchise locations. The company offers dry cleaning, laundered and pressed shirts, personal laundry wash and fold by the pound, and cleaning household goods like comforters and blankets. The chain collects and cleans interview attire and coats for organizations such as the Cara Collective and the Infant Welfare Society of Chicago.
Source: CD One Price Cleaners