CCHR Japan Demands an End to Psychiatric Abuse
Press Release
•
updated: Jul 3, 2018
'Psychiatry continues to repeat the same crimes - from forced sterilization to fraudulent diagnosis of developmental disorders,' says Citizens Commission on Human Rights. 'History repeats itself.'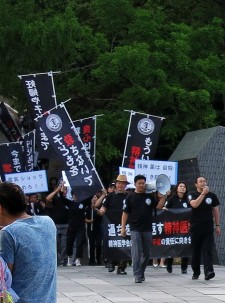 KOBE, Japan, July 3, 2018 (Newswire.com) - At the annual conference of the Japanese Society of Psychiatry and Neurology in Kobe, Japan, Citizens Commission on Human Rights demanded psychiatrists cease the abuses documented in Psychiatry: An Industry of Death Exhibit. "It is time for psychiatrists to learn from their destructive history," says CCHR.
CCHR Japan picketed the annual conference bearing placards and banners demanding reform. They launched their protest by filing a petition on behalf of psychiatric patients who were victims of forced sterilization under a now-canceled "eugenic protection law" (1948-96). The group demands the psychiatrists who perpetrated these violations of the rights of disabled patients under their care be held accountable for the irreparable harm they caused.
Psychiatry continues to repeat the same crimes - from forced sterilization to fraudulent diagnosis of developmental disorders. History repeats itself.

Citizens Commission on Human Rights
Opened simultaneously in two venues June 21-23, one at the Kobe International Exhibition Hall and the other at Portopia Hotel, Psychiatry: An Industry of Death documents the sordid history of psychiatry beginning in "Bedlam," the infamous Bethlehem Royal Hospital in London. It covers Pavlov's inhumane experimentation on children and comes forward to abuses the group says are taking place today.
One of the most riveting sections exposes the Nazi psychiatrists who developed and piloted Hitler's "final solution." With the passage of the 1933 Sterilization Act, Nazi psychiatrists murdered tens of thousands of people they considered "racially or mentally unfit," including their own patients and disabled children.
Of the hundreds visiting the exhibition, many of them were psychiatrists in Kobe to attend the conference.
Citizens Commission on Human Rights (CCHR) is a nonprofit charitable mental health watchdog co-founded in 1969 by the Church of Scientology and professor of psychiatry Dr. Thomas Szasz. It is dedicated to eradicating psychiatric abuse and ensuring patient protection.
With headquarters in Los Angeles, California, CCHR International guides a global human rights advocacy network of some 180 chapters across 34 nations. CCHR Commissioners include physicians, psychiatrists, psychologists, lawyers, legislators, government officials, educators and civil rights representatives.
Source: ScientologyNews.org
Related Media