CCHR Exhibit Exposes Human Rights Abuses in the Mental Health Industry
Mental Health watchdog Citizens Commission on Human Rights Psychiatry: An Industry of Death exhibit in Washington, D.C., tells the untold story of the mental health industry.
Press Release
-
updated: Jan 24, 2018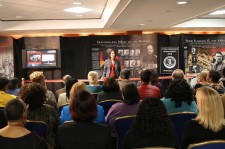 WASHINGTON, January 24, 2018 (Newswire.com) - Citizens Commission on Human Rights (CCHR) brought the Psychiatry: An Industry of Death exhibit to the Marriott Wardman Park Hotel Jan. 12 to 14 to educate D.C. professionals on ADHD treatments that have come under fire from the UN Committee on the Rights of the Child. They also brought this information to the attention of those attending the American Professional Society of ADHD and Related Disorders (APSARD) Annual Meeting.
The exhibit documents that Attention Deficit Hyperactivity Disorder or ADHD was voted into existence by the American Psychiatric Association (APA) in 1987 when compiling the Diagnostic and Statistical Manual of Mental Disorders — DSM-III-R (third edition-revised).
Profit Motivation
Those visiting the exhibit also learned of a Government Accountability Office report that focused on children in the Medicaid program. According to NPR, the report found "foster kids were more likely to be prescribed five or more psychotropic drugs at an age and at doses that exceed the maximum FDA-approved levels — both of which carry serious health risks."
CCHR International spokesman and past-president of NAACP Compton, California, Frederick D. Shaw, said that "Persons of color are overrepresented in high poverty areas and an analysis of national Medicaid claims for foster youth found 49 percent were on antipsychotics and 48 percent were on antidepressants, despite an FDA 'black box' warning that antidepressants increase suicide in children, adolescents and young adults. Antipsychotics create diabetes. We need better protections for these children; whatever has been done to date is insufficient."
In November 2011, the Centers for Medicare and Medicaid Services (CMS), the Substance Abuse and Mental Health Services Administration (SAMHSA), and the Administration for Children and Families (ACF) wrote a joint letter to state health directors encouraging them to strengthen oversight of psychotropic drug use among the foster care population.
According to the Boston Globe, APSARD president-elect Dr. Joseph Biederman was sanctioned by Massachusetts General Hospital and Harvard Medical School for violating conflict of interest rules. "They did not specify the nature of the violations," the Globe reports. "But in 2008, Senator Charles Grassley, an Iowa Republican, accused the three doctors of accepting millions of dollars in consulting fees from drug makers from 2000 to 2007, and of failing for years to report much of the income to university officials."
Citizens Commission on Human Rights (CCHR) is a nonprofit charitable mental health watchdog co-founded in 1969 by the Church of Scientology and professor of psychiatry Dr. Thomas Szasz. It is dedicated to eradicating psychiatric abuse and ensuring patient protection.
With headquarters in Los Angeles, California, CCHR International guides a global human rights advocacy network of some 180 chapters across 34 nations. CCHR Commissioners include physicians, psychiatrists, psychologists, lawyers, legislators, government officials, educators and civil rights representatives.
Source: ScientologyNews.org
Share:
---
Categories: Psychiatry and Psychology, Human Rights, Child Abuse
Tags: ADHD, CCHR, Citizens Commission on Human Rights, D.C., psychiatry, Psychiatry: An Industry of Death, Washington
---