CCHR Demands That WPA Congress Put an End to Psychiatric Abuse
Press Release
•
updated: Apr 17, 2018
Irate demonstrators converged on the World Psychiatric Association Congress in Melbourne to protest psychiatric abuse.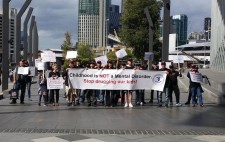 MELBOURNE, Australia, April 17, 2018 (Newswire.com) - When psychiatrists arrived at the Melbourne Convention Exhibition Centre for the WPA Congress, Citizens Commission on Human Rights (CCHR) was there. With megaphone blaring, dozens of volunteers bearing placards and banners met them, demanding they put an end to psychiatric abuse.
Shouting slogans like "Stop drugging our kids" and "Leave our elderly alone," the protesters demanded action.
Nearly four million Australians are on psychiatric drugs—drugs that can increase the risk of violence and suicide.
"Psychiatry has reclassified normal childhood behavior as a mental disease," said one of the protesters. "It is time to bring psychiatry under the law."
CCHR Melbourne presented the following statistics:
More than 49,000 Australian children are on antidepressants. Of these, 1,400 are age 2-6. This, despite no antidepressant being authorized for use for depression on children under 18. Australia's drug regulatory agency, the Therapeutic Goods Administration (TGA), warns antidepressants can induce suicidal thinking and behavior in this age group.

As of October 2016, the TGA Adverse Drug Reactions Database reported 94 suicides linked to antidepressants and an additional 311 suicide attempts and 511 instances of suicidal behavior.

Another 80,000 children age 2-16 are on ADHD drugs, nearly 5,000 of them are less than 6 years old. In some cases, these drugs have been found to contribute to stunted growth, heart problems and sudden death.

A further 16,570 children age 2-16 are on antipsychotics.
CCHR produced and handed out a publication that includes these and other statistics and documents conflicts of interest of several of the speakers featured at the WPA Congress.
Parents have a right to know of all the alternatives and potential side effects of psychotropic drugs proposed for their children so they can give fully informed consent, says CCHR. There are no blood or urine tests, brain scans (MRI, PET scan) or genetic tests to scientifically/medically confirm the existence of the mental disorders with which children are labeled.
For more information, visit the CCHR Victoria website or CCHR.org.
Citizens Commission on Human Rights (CCHR) is a nonprofit charitable mental health watchdog co-founded in 1969 by the Church of Scientology and professor of psychiatry Dr. Thomas Szasz. It is dedicated to eradicating psychiatric abuse and ensuring patient protection.
With headquarters in Los Angeles, California, CCHR International guides a global human rights advocacy network of some 180 chapters across 34 nations. CCHR Commissioners include physicians, psychiatrists, psychologists, lawyers, legislators, government officials, educators and civil rights representatives.
Source: ScientologyNews.org
Related Media