Catshy Crafts Launches Spring Collection of Wall Art Combining Nostalgia of Hand Embroidery With Felt Florals
A Fresh Modern Take on a Time-Honored Craft, Catshy Crafts New Limited Edition Wall Art Combines the Nostalgia of Hand-Stitched Embroidery With the Playfulness of Colorful Felt Flowers
Press Release
-
Apr 21, 2016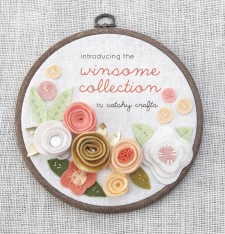 Bellevue, WA, April 21, 2016 (Newswire.com) - Catshy Crafts has launched its Spring 2016 line – The Winsome Collection - just in time for Mother's Day. An enchanting mix of corals and pinks with accents of dove grey and gold, this limited edition line of embroidery hoop wall art is sure to make moms and their kids feel oh-so loved.
Lost Art Reinvented
When you think of embroidery hoop art, you may remember grandma's cross-stitched samplers hanging on the wall. Or you may think of traditional Victorian-era needlework often depicted in Jane Austen novels. Former health writer and mom of two, Cathy Pascual of Catshy Crafts creates a new take on this time-honored tradition. She fashions wall decor featuring 3-dimensional hand-cut and hand-stitched felt blooms and embroidery.
Made of wool felt and cotton fabric, each piece is framed by a round or oval embroidery hoop. Cathy's eye for color is readily apparent in her exquisitely chosen color palette.
From personalized name signs (for mom or child) to inspirational messages like "Choose Joy", "Celebrate Today" and "You Are Loved," the Winsome Collection reminds us to find happiness around every corner and cherish the everyday moments. This limited edition collection will captivate moms' hearts this spring.
About Catshy Crafts
Founded in 2011, Catshy Crafts is the brainchild of Bellevue, WA single mother of two, Cathy Pascual. Catshy Crafts creates heartfelt décor including wall art and wreaths that delight and inspire moms and kids alike. With a perfect five-star rating on Etsy, Catshy Crafts has been featured in Mollie Makes, DisneyBaby, Babble and other mom-oriented websites and has 1700+ followers on Instagram.
###
For more information, contact
Cathy Pascual  
425-753-2886
Source: Catshy Crafts
---
Categories: E-Commerce and e-Business, Decorating, Artists, Visual Arts, Shopping
Tags: embroidery, Etsy, gifts for mom, home decor, mom-owned business, mother's day gifts, shopping, small business
---