Catalyst Private Wealth Opens Its Doors in San Francisco
Independent Financial Advisory Firm Will Serve Planning and Investment Management Needs of Innovators, Disruptors, and Leaders in Technology
Press Release
-
updated: Jan 8, 2018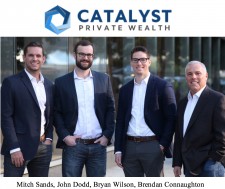 SAN FRANCISCO, January 8, 2018 (Newswire.com) - ​The founders of Catalyst Private Wealth have announced the launch of their financial advisory firm, focused on holistic wealth management for entrepreneurial innovators and leaders. The Catalyst team brings a fresh perspective and best practices from decades of experience to provide clients with sophisticated wealth planning strategies and solutions.
"Our mission is to deliver truly comprehensive wealth management solutions with a customized approach that addresses where our clients are in the liquidity and startup cycle," said Brendan Connaughton, Managing Director of Catalyst.
LEADERS IN THE FINANCIAL SERVICES INDUSTRY
Connaughton is a respected leader in the wealth and investment management industry, having spent 25 years in senior-level positions at firms such as Blackrock, HSBC Private Bank, Deutsche Bank Private Wealth, and Wells Fargo. Alongside Connaughton, the Catalyst co-founders include John Dodd (Chief Investment Officer), Mitch Sands and Bryan Wilson (Wealth Advisors). All three have extensive industry experience with a focus on wealth management, stock option planning, secondary markets, and investment management.
"Our clients often carry outsized risk and illiquid equity positions. Whether stock options, private placements, or founder's equity, it is critical that our clients have a strategy for these positions and adjust their core portfolio and financial plan accordingly," said Wilson. "Our goal is to be life advisers, thoroughly planning for all the hurdles and decisions entrepreneurs face, in both their careers and personal lives."
"The portfolio needs of our clients are often quite different from other investors," said Dodd. "We are skilled in managing risk exposure and have both liquid and less liquid offerings available as we customize client portfolios depending on their goals, tolerance and life circumstance."
"Committed to radical transparency and a client-first mentality, we combine our diverse expertise to build holistic wealth plans and a unique client experience that evolves alongside our clients' lives," said Sands. "Too often innovators find themselves working with financial professionals whose primary focus is investment management, without adequate consideration for the rest of the picture including critical areas such as estate planning, cash flow and liquidity management, tax implications, and stock option counsel. Our clients can expect us to be by their side through all aspects of their financial lives."
Two of the Catalyst founders are millennials, which is unusual for wealth management firms – the average age of a financial advisor in the United States is over 50. This dynamic has created a refined approach that resonates well with Silicon Valley elites, some of whom are millennials themselves. Client needs are changing and wealth management as a whole is facing a level of disruption as the finance world further integrates with technology. Catalyst intends to evolve alongside the changing landscape, bringing a fresh perspective and platform to best service clients.
Catalyst has partnered with Mutual Advisors, LLC and Mutual Securities, Inc. The Mutual companies have a 35-year history of supporting wealth management firms. This allows Catalyst to focus solely on their client needs, services, and solutions.
ABOUT CATALYST
Catalyst Private Wealth was formed to solve the unique wealth management needs of innovators and business leaders. Catalyst is located at 101 Montgomery Street in San Francisco. For more information visit www.catalystprivatewealth.com or contact info@catalystprivatewealth.com.
Investment advisory services offered through Mutual Advisors, LLC DBA Catalyst Private Wealth, an SEC- registered investment adviser. Securities offered through Mutual Securities, Inc., member FINRA/SIPC. Mutual Securities, Inc. and Mutual Advisors, LLC are affiliated companies.
Contact:        
Leslie Swid
Impact Communications
913-649-5009
leslieswid@impactcommunications.org
Source: Catalyst Private Wealth
---
Categories: Financial News, Financial and Insurance Services, Personal and Family Finances
Tags: Brendan Connaughton, Bryan Wilson, Catalyst Private Wealth, John Dodd, Mitch Sands
---