Castle Creations Releases High Performance DMR 30/40 (Dedicated Multi-Rotor ESCs) to Drone and Multi-Rotor Markets
Press Release
•
Sep 14, 2016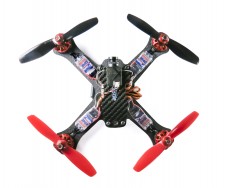 Olathe, KS, September 14, 2016 (Newswire.com) - Castle Creations Inc., the leader in electronic speed controllers (ESC) for radio-controlled (R/C) car, air, and multi-rotor hobby markets, as well as commercial UAV and drone markets, is excited to announce the release of the brand new, high performance, DMR 30/40 ESC for use in high performance and demanding applications such as FPV racing drones, battle drones, large camera carrying multi-rotors, and heavy lift multi-rotors.
Loaded with features, the DMR 30/40 boasts an impressive power to weight ratio and is ready to fly right out of the package. The DMR 30/40 is controlled by Castle's innovative Multi-Rotor V5 firmware released in July of 2016. The Multi-Rotor V5 firmware includes Castle's proprietary Adaptive Timing System™ (ATS) which maximizes efficiency and power output across the entire throttle range and results in increased flight times and noticeably more torque.
"We are very excited about the release of our new DMR 30/40 ESCs to the growing FPV drone and multi-rotor markets", says Brian O'Donnell, Director of Marketing and Sales. "The market has been asking Castle to provide a robust design that is easy to use, has outstanding performance and support. Bringing this new innovation to our FPV drone and multi-rotor customers is only the beginning. It is an exciting time to be in RC and at Castle Creations."

Brian O'Donnell, Director of Marketing and Sales
Key features of the new DMR 30/40 include:
Adaptive Timing System™ (ATS) technology
Ultra-low internal resistance design
Ready to fly out of the package with exclusive Castle "Turbo Sound"
High power to weight ratio: Over 1kW from a 5.2g ESC1
Advanced rotorSense2 allows elegant simplicity in throttle calibration and setting motor direction
Auto-Detecting Input Signal selects between Servo PWM, OneShot, and OneShot125
Dynamic motor PWM frequency
High maximum electrical RPM to support some of the fastest motors available
Improved Active Braking algorithm
Wide input voltage range for a maximum variety of applications and flight times
Programmable via Castle Link USB Adapter or Castle Field Link
Designed, manufactured, and supported from Olathe, KS USA
Released in June 2016, Multi-Rotor V5 firmware is a free upgrade to existing multi-rotor products and available for download through Castle Creations' website, www.castlecreations.com.
"We are very excited about the release of our new DMR 30/40 ESCs to the growing
FPV drone and multi-rotor markets", says Brian O'Donnell, Director of Marketing and Sales. "The market has been asking Castle to provide a robust design that is easy to use, has outstanding performance and support. Bringing this new innovation to our FPV drone and multi-rotor customers is only the beginning. It is an exciting time to be in RC and at Castle Creations."
About Castle Creations
Castle Creations, Inc. is a global manufacturer that has challenged the limits of technology since 1997. Based in Olathe, KS USA, Castle continues to pioneer high-performance electronic speed controls (ESC) and BLDC motors for the radio-controlled (R/C) car, air, and multi-rotor enthusiast markets as well as commercial UAV and drone markets. Our custom products continue to deliver high-performance electric drive solutions that are commonly used in motion control applications. For more information about our complete line of ESCs, drives, brushless motors and accessories, visit us online at www.CastleCreations.com or email sales@castlecreations.com
Media Information:
Product page: http://www.castlecreations.com/products/dmr.html
Media Kit: http://www.castlecreations.com/media/media_kits/mk-dmr.html
Contact: Brian O'Donnell, Director of Marketing and Sales
​Castle Creations
913-390-6939
sales@castlecreations.com
Footnotes:
1. Board weight only. Wire weight not included. Power estimated at 25.2V, 40A, full throttle, and 40mph airflow
2. Advanced rotorSENSE is inspired by ImmersionRC rotorSENSE
Source: Woodsmall Marketing Group
Related Media