Casey McQuillen's Musical Take on Bullying Prevention
Press Release
-
updated: Nov 6, 2018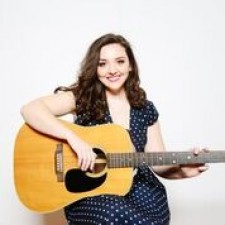 NEW YORK, November 6, 2018 (Newswire.com) -  Meet Casey McQuillen, a singer-songwriter who spreads kindness, compassion, and self-acceptance through the power of music for bullying prevention. After gaining notoriety as a finalist on Season 13 of American Idol, McQuillen decided to combine her talents with her passion for bullying prevention. Casey founded the "You Matter" Tour, an anti-bullying assembly that promotes empathy and strength to students experiencing the harrowing effects of bullying.
McQuillen was motivated to start the "You Matter" Tour because of the emotional way young fans connected with her music, especially the songs she wrote in middle and high school.  When Casey was a teenager, she was bullied and wrote many songs about her struggles with self-acceptance. As an adult, she saw these songs and the stories behind them as an opportunity to provide students with an authentic and safe framework to discuss their own experiences with bullying and self-confidence. Through the songs she wrote at 13, 15 and 17, Casey tackles many of the issues facing today's kids, including the importance of taking risks, the long-term effects of bullying, and the importance of loving ourselves and feeling beautiful in our own skin.
Building confidence in students is one of the main objectives of The "You Matter" Tour. To date, McQuillen has reached more than 30,000 students across the U.S., many of whom have found music to be a compelling alternative to other formats of antibullying programs. The "You Matter" Tour has been recognized by the U.N. Foundation for its work preventing bullying in schools and spreading messages of empathy and acceptance. Before American Idol and the "You Matter" Tour, McQuillen graduated summa cum laude from Berklee College of Music, where she double majored in Songwriting and Music Business. She currently lives in New York City and is a native of Boston.
With The "You Matter" Tour, McQuillen hopes to be a role model for students and encourage them to stand up for themselves and their peers. Contact Casey for information on how to book an assembly concert in New York, Boston, or Los Angeles. Discounted performances are available for public schools and nonprofits, as well as schools and organizations within a two-hour drive of New York City.
No child should ever doubt their worth; use music to help restore your students' self-confidence and tell them the most important message of all; You Matter. Find out why so many students are saying that the "You Matter" Tour changed their perspectives on both themselves and their peers—book Casey McQuillen to come perform at a school or organization today.
Source: Casey McQuillen
---
Categories: Live Performance
Tags: Antibullying Assembly, Antibullying Programs, Building Confidence In Students, Bullying Prevention, Preventing Bullying In Schools
---